Christmas Party Themes for Every Friend Group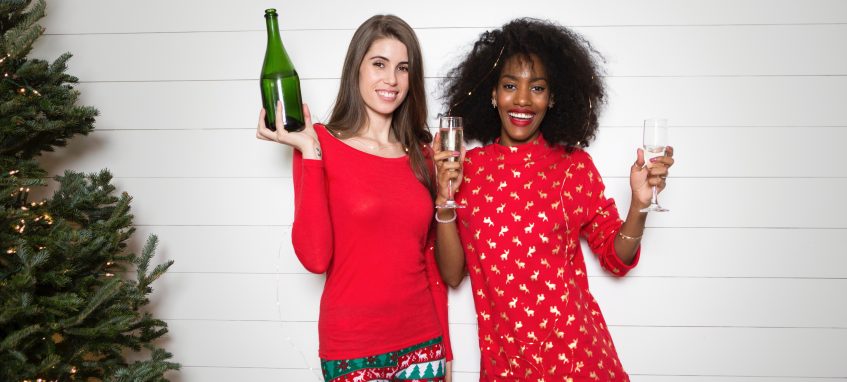 Whether this is your first Christmas in college or your last, it's a long-awaited season of festivities. In the dorms, your friends are just a short walk away and there are plenty of events to choose from. In an apartment, you have the freedom to decorate an entire space, transforming it into a magical winter wonderland — don't forget the photo booth!
But year after year it seems more difficult to host a party that feels outside the box. That's why we've put together this guide to help you plan your party based on the interests of you and your friend group.
The Foodies
After a week of dining hall food, you'll already be dreaming of mom's home cooking. If you're in the dorms without a kitchen, make things interesting by hosting a homemade potluck. The caveat is that you can only use dorm room essentials (like a microwave). See who can craft the most delicious snack without a full kitchen. Hint: try your hand at no-bake desserts for a sweet treat that will be the talk of the party.
If you've grown out of dorm life, host a Masterchef: Holiday Edition party. Give each person one ingredient that has to be the central flavor in their dish, and see what they come up with. You can keep it traditional with ingredients like peppermint and rosemary, or get creative with unconventional ingredients like bacon and seaweed — holiday-themed sushi, anyone?
The Mathletes
Is everyone in your group a math major or engineer? Bring numbers and coding into the equation.
For those who love math, take gingerbread making to the next level. Include rules that require the builders to use specific angles in their design or an exact number of certain ingredients. Extra points if you bake the gingerbread shapes yourself so people can build structures that differ from the traditional house.
If your friends are engineers, host a unique "gift" swap. Similar to Secret Santa, assign everyone a buddy. Then, have each person code a special card or message. Show the designs at the party and vote on the most creative one! Alternatively, you can turn this into a GIF challenge (especially for those who don't code). Who doesn't love a good GIF?
The Pop Culture Buffs
Whether your friends are aspiring actors and actresses, or simply in tune with the latest and greatest shows, you can't help but have a Christmas movie marathon. Our vote is Elf. Take it from Buddy, "the best way to spread Christmas cheer is singing loud for all to hear." That's right, you won't just be watching a movie, you'll be playing themed games too.
Start off with Pin the Face on the Elf. You can print the Christmas game here. You'll also need to print out a variety of faces to stick on the elf's body. For extra personalization, print the face of every guest out. Alternatively, you can choose everyone's favorite celebrity.
Next, have a sing-off. Someone will start singing a popular song. They'll end on a word that's common in many carols. The next person will start with that word and continue with lyrics from another song. Whoever can't think of a new carol loses.
The Know-It-Alls
Are you that group that always knows random facts? If so, go head-to-head in a seasonal version of Holiday Jeopardy. From festive facts to seasonal puns, see who is the ultimate holiday aficionado. Make sure you designate a host for the game to moderate and provide small prizes for the winners.
Once Jeopardy is over, switch to lighthearted games like Heads Up, Taboo or Pictionary. Create your own cards with inside jokes to keep it interesting.
The Artists
Who doesn't love a sip and wine party? Instead of painting the same picture, let your creative skills run wild and make gifts for friends! Assign everyone a partner to make a gift for, but keep it a secret. Provide plain plates, mugs or glasses to paint. You can use paint, paint pens or other mediums. You'll likely need to set the gifts in the oven, so remember to leave time for that.
Grab a glass of wine and get painting! Once everyone is done and the gifts are set, place each piece out on the table. Vote who it was made for to see which friends you know best!
Bonus: Make everyone wear homemade ugly Christmas sweaters to showcase their creative skills.
The Accountants
If you and your friends are in business or accounting, you're used to working with money all the time. Put a unique spin money management by seeing how far everyone can stretch a dollar (or ten), at a thrift store.
There are a few different ways you can interpret this theme. One is a scavenger hunt. Create a list of general items (ex. something green, something with glitter). Give everyone a time limit and see who can come back with the most unique items. Assign someone to be the judge and choose the winning team.
Alternatively, you can throw a costume party. Everyone has $10 to come up with the most crazy holiday costume. The best outfit wins bragging rights for the next year.
Now that you have a list of activities in mind, get planning! Don't forget to check off all the party essentials: food, decorations, music, games, and, of course, a good group of friends. Take lots of pictures to send to Mom and Dad and show them that they taught you to host a party in style.
Afterwards, you just have to get through those final papers and tests, and you're on your way to a month-long winter break. Time for party number two (or three or four) with family and friends back home. Don't forget to show them the tricks you learned from hosting your own holiday party!
Author: Alex Heinz
Alex Heinz loves everything DIY including sewing, crafting home decor, and cooking meals for friends. When she's not creating or writing, you can find her playing with her energetic dog, at the beach, or exploring new hikes.