14 Instagram-Worthy College Party Outfits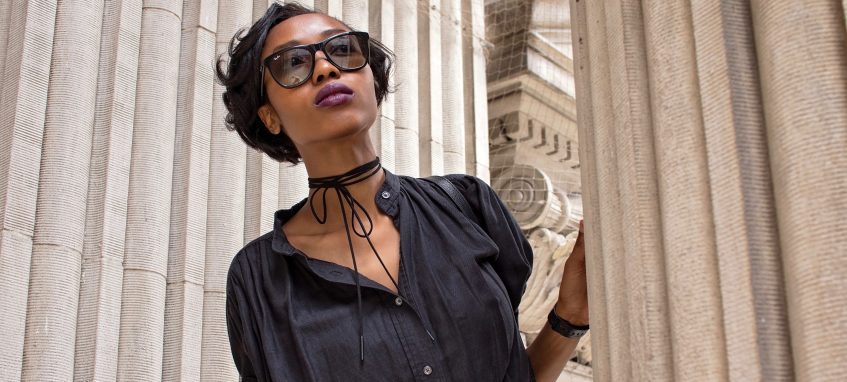 College parties are loads of fun, but they aren't always easy to dress for. What's too casual and what's too dressy? When to go sexy and when to show a little school spirit? And how do you pull off specific occasions? Check out the outfits below for inspiration.
#1 – Stick to Smart Casual When You Don't Know What to Wear
Not every college party is beer pong and local clubs. What happens if your internship throws an office bonanza? Dress smart, with well-fitting jeans or slacks, dress shoes, a blouse and blazer.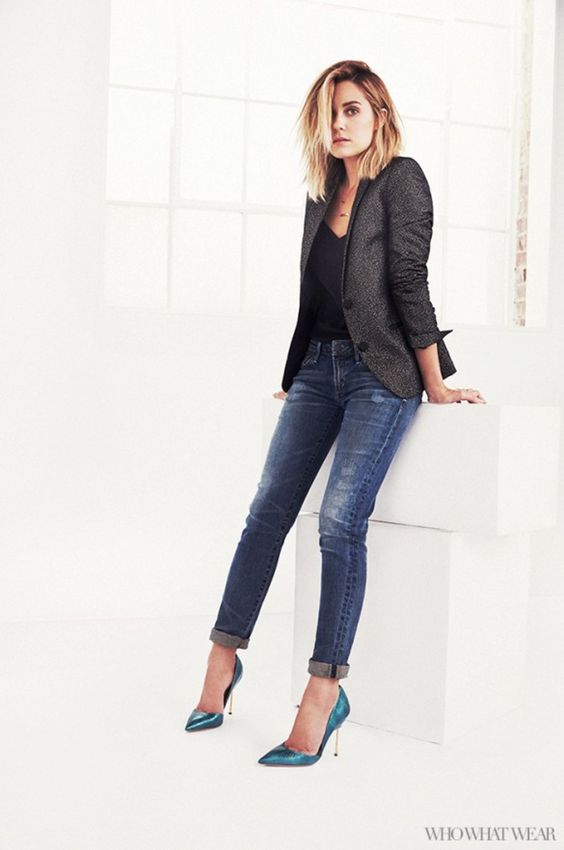 Image credit: Pinterest
#2 – Add Playful Accessories
Make your little black dress a bit more playful by adding bold jewelry and an artsy hat. This is the perfect outfit for a fun night out with your girls or to a music-themed/jazzy party.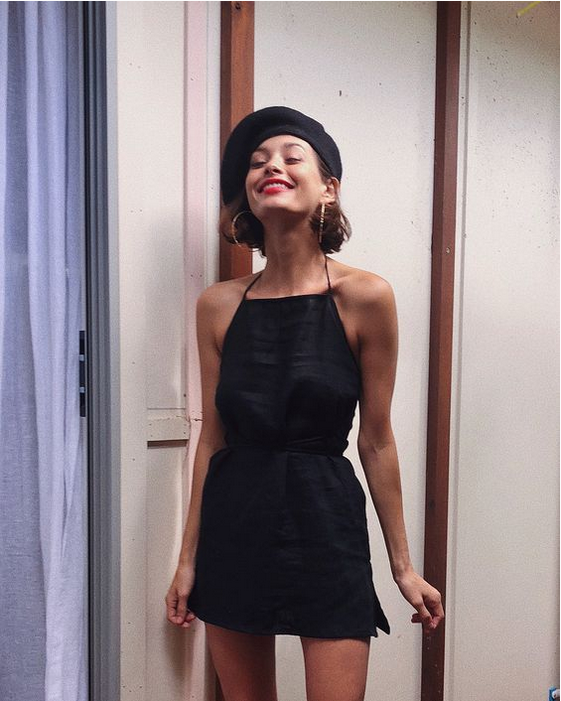 Image credit: emfashionfiles
#3 – Set the Vibe With Accessories
If you're more of a jeans gal, dress it up with a flowy tank and heels for a chill vibe. Perfect for a night at the bar or a spur-of-the-moment party with friends. Accessories really set the vibe for this look.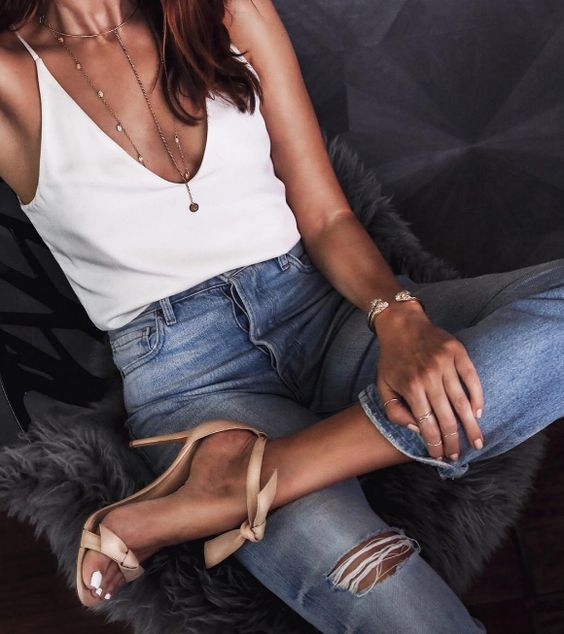 Image credit: Pinterest
#4 – Use Your School Team Colors
Tailgating parties are some of the liveliest events, and it's worth making a little effort beyond your school tee+jean go-to. Pair a top with a skirt or shorts that matches your team colors for a festive tribute to your school.
#5 – Jumpsuits with Heels – Just Perfect!
A bright jumpsuit and heels will have all the heads turning. Dress it up for a party at a sophisticated event or keep it casual for a kickback with friends.
#6 – Buy a Cute Dress for B-Day Parties
The more friends, the more birthday parties you'll be invited to! Opt for a colorful, sweet dress that you can pair with comfortable shoes like converse or dressy flats. It's the perfect way to look flawless without upstaging the birthday girl.
#7 – Choose Traditional Holiday Colors
Holiday parties are magical, and if you're celebrating the holidays with your college friends, a colorful ballroom skirt, heels and half sleeve blouse will win hearts. Worried about fitting the occasion? Opt for browns and orange around Thanksgiving, reds and greens at Christmas, and gold or black around New Year's. What about Halloween? These college outfit ideas for Halloween will help you to look perfect.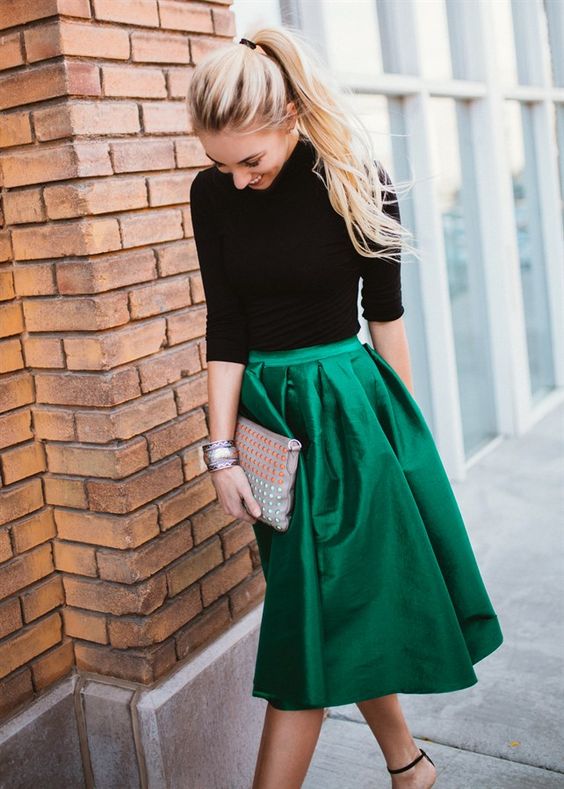 Image credit: Pinterest
#8 – How About Tying a Regular T-Shirt?
Headed to a frat party? Bar-hopping with the girls? Convert your everyday essentials into a fun, flirty outfit by grabbing a front tie shirt or tying a regular t-shirt and wearing your favorite cut-off shorts.
#9 – You'll Never Lose By Choosing Denim Shorts
Denim shorts and crop tops are a great option for darties early in the semester when the weather is still hot. Opt for a dark pair of shorts with a patterned top or keep with simple with a plain top and lighter-colored denim.
#10 – Try a Printed Skirt
You can't get more straightforward than this printed mini skirt paired with a classic black tee and fun accessories. This is a great option is you're playing it safe at a dorm party or getting the first taste of college nightlife.. You'll look hip and feel comfortable all at once.
#11 – Consider Leggings
Leggings and crop tops are the ultimate party comfort, and with the right fit and color combination, you'll be the high-fashion guest of the party. Complete the look with a stylish jacket, shades and combat boots to insert a boost of color.
#12 – Try '90s Fashion
Did someone say 90s? Don't throw that 90s party invite in the trash! Bold patterns, chokers, mom jeans, and multi-patterned hoodies and jackets were all the rave back in the day. Mix and match and finish off with with a thick black belt and you'll steal the show.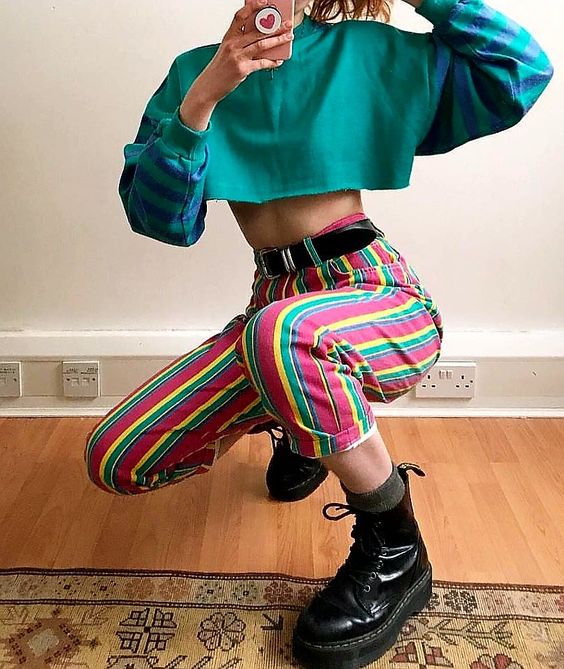 Image credit: Pinterest
#13 – Swimsuit Also Matters
Whether you're swimming or lounging, pool parties are great ways to end the summer or kick-off the season. Choose a bright, fun swimsuit and bikini and use a pair of overall shorts as your cover-up!
#14 – Turn a Tee into a Dress
Turn an oversized graphic tee into a sexy dress for a night out on the town or a concert after-party. Pair with combat boots and a crop jacket you'll have an unforgettable ensemble.