40 Best Gifts for College Girls: Gifts that Any College Girl Will Love and Appreciate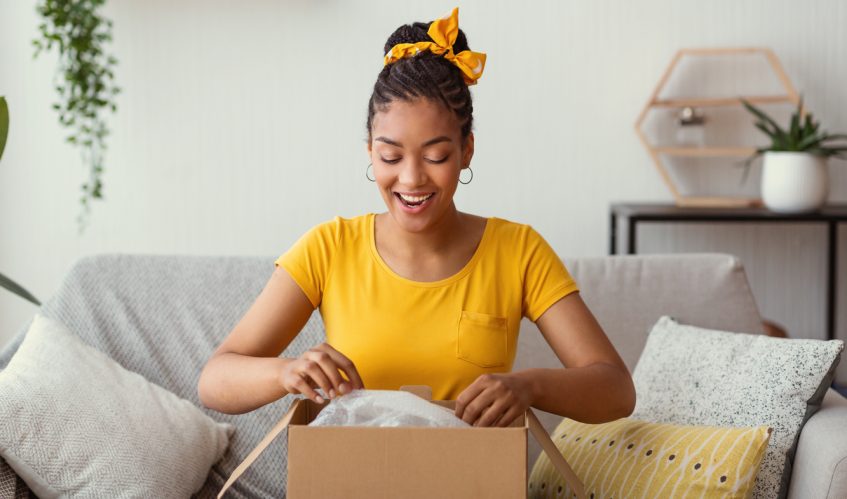 Finding the best gifts for college girls can be a mission. There are so many products on the market. How do you choose the perfect one? Don't worry; we are here to make things easier for you with our best gifts for college girls guide.
This guide shares everything a girl may need in college, from comfy clothes to pampering products and many more fun goodies. So whether you are looking for a birthday, Christmas, going away gift, or just something special to spoil the college girl in your life with, you will find it here today.
Are you ready? Let's get started!
College Gifts For Girls That Are All About Self-Care
1. Cleverfy Shower Steamers Aromatherapy
College can be tiring and stressful. Remembering to prioritize yourself and take some time is very important.
The Clever Shower Steamers aromatherapy is perfect for superior self-care. It comes with 6 different shower bombs that are infused with essential oils. These shower bombs will help you relax, breathe, lift, and boost your mood, refresh, and calm you down.
All you have to do is place one of these steamers in the corner of your shower but don't put it under the water. Now relax and enjoy the moment.
This is perfect for the college girl whose schedule is super busy and needs a bit of a breather. She might not have time to go to a spa, but you can bring the spa to her. This gift will help a college girl unwind and relax in the evenings after a busy day and wake up energized and in a good mood.
It's the gift of self-care and relaxation. It is a very thoughtful gift, in our opinion.
2. Bedsure Satin Pillowcase for Hair and Skin
We girls need our beauty sleep. And what better way to get our beauty sleep than satin pillowcases. These satin pillowcases are incredibly soft and smooth, and they are made out of premium fabric.
These pillowcases will prevent creasing lines on your face and reduce split ends for your hair. And if you're a girl, you would know what a pain in the butt this can be. What makes this satin pillowcase even better is that it looks effortlessly chic with any room decor you choose.
These Bedsure satin pillowcases are for college girls who prioritize their skin and hair and want a restful night of sleep every night. With this satin pillowcase, your skin and hair will always be on fleek. It is definitely a gift that keeps on giving.
3. GLAM UP Sheet mask Facial Sheet Mask 12 Combo
Enhance your natural glow with these facemasks. This pack of 12 facemasks will help moisturize, nourish, hydrate, and calm your face. It is the perfect treat after a long day. Whether battling skin acne or dryness, this facemask combo pack will do its thang and help your skin glow.
We believe facemasks are an essential beauty item every college girl needs. It will not only help them relax after a rough day, but it will treat their skin concerns. Take care of your skin, and your skin will take care of you. Get this for the college girl in your life today and give her the gift of
glam and self-care.
4. Hydro Flask Standard Mouth Bottle with Flex Cap
"Sksksk and I oop." Yup, this was the saying from VSCO girls back in 2019. And one of the things VSCO girls were associated with was their hydro flasks. Although this trend has faced out, hydro flasks are still very popular.
This hydro flask can keep your drinks cold for up to 24 hours and hot for up to 12 hours. It is made out of 18/8 pro-grade stainless steel. This makes the hydro flask durable and ensures that there is no flavor transfer and that there's just pure taste.
College life is busy, and when you are busy and have a lot of things on your plate, you tend to forget to drink water. But with this stylish and colorful hydro flask, you will remember to stay hydrated. It is comfortable to carry, so you can take it anywhere. Give the college girl in your life the gift of hydration with this cute hydro flask.
5. EUASOO Rose Spa Care Package
This rose spa care package is stunning and oh-so-elegant. Trust us; it is a gift that someone will remember forever. In this spa package, you get an insulated stainless steel tumbler that you can drink your beverages out of, a handcrafted soy-scented candle, a card, a bath bomb, and some bath salt.
It is the perfect relaxation package to treat someone with. This gift is ideal for a college girl who needs time and loves self-care. You will definitely make her feel pampered and special with this gift. Give the gift of luxury self-care because taking care of yourself should be a priority.
6. LifeAround2Angels Bath Bombs Gift Set
This bath bomb gift set comes with 12 bath bombs that are therapeutic and moisturizing. It is essential to take some YOU time now and again just to destress and unwind; using bath bombs is a great way to do so.
This bath bomb set comes with a variety of scents and colors, so you can use them and decide on your favorite one. And don't worry, the bath bombs won't stain your bath.
Give the college girl in your life this luxurious bath bomb set so she can relax and have her own spa day. It will not only nourish her skin but her heart, too.
7. Erligpowht Therapy Light Daylight Lamp
This therapy daylight lamp is the secret to feeling energized, revitalized, and focused. It will help you to keep going all day long. Its stylish and functional design makes it easy to carry around and take with you wherever you go.
You can choose your preferred therapy time between 15, 30, 45, or 60 minutes. It also has 3 customizable brightness levels for your comfort.
This is a great gift for the college girl who is always busy and needs some energy to get through the rest of her day. With this light therapy lamp, she will feel energized, focused, and ready to take on her studies within minutes. Give the gift of revitalization with this light therapy lamp. Trust us, it is so worth it.
8. New York Biology Dead Sea Mud Mask
This mud mask helps reduce pores, acne, blackheads, and oily skin. This product is amazing because it is suitable for all skin types. The formula of this mud mask is made up of Aloe vera, Vitamin E, Dead Sea mineral mud, calendula oil, and Jojoba oil. These ingredients help to clean and purify your pores.
This mud mask is ideal for college girls who are obsessed with skincare. This product will make their skin feel softer and give them a radiant glow. It is the perfect medicine for your skin during exam season when your skin usually wants to have a freakout because of all the stress. Give the gift of perfect skin to the college girl in your life. They are sure to love and appreciate it.
9. REVLON One-Step Volumizer Enhanced 1.0 Hair Dryer and Hot Air Brush
This Revlon brush lets you dry, style, and volumize your hair in only one step. It will help you achieve a salon-worthy blowout at home. It has styling flexibility and includes 3 heat settings with a cool option to style your hair according to your hair care needs. Say goodbye to frizziness and hair damage with this Revlon brush.
This is any college girl's dream gift, as it will always make your hair look on fleek. Whether you are going out with friends, attending an important meeting, or heading to class, this hair brush will make you look as if you just got your hair done professionally. It's a gift that will come in handy all the time. It gets a big yes from us.
College Gifts For Girls That Are All About Safety
10. SABRE Pepper Spray With Quick Release Keychain
When it comes to college, everything is new: the environment and the people. Staying safe is very important. We live in a beautiful world, but some people make it ugly. Having something with you that makes you feel safe and able to defend yourself when a situation occurs can make the world's difference.
This Sabre Pepper spray does not only look cute, but it's functional too. It comes with a quick-release key ring that gives you immediate access to spray when time counts. It also has an easy-to-grasp grip so that you can hold it firmly and aim while you keep your eye on the target.
This is the perfect gift for college girls who love going out or have to attend late-night classes. In our opinion, making someone feel safe or giving them a gift that they can protect themselves with is the best gift you can get someone. This is a gift of safety and comfort.
11. HerTime2 Personal Safety Alarm
This safety alarm is a self-defense essential any college girl needs. Now, you can have fun in college while staying safe. Whether running, hiking, or going on a night out with friends or a date, the Hertime 2 safety alarm will have your back.
This safety alarm is deafening and comes with a high-intensity flashing strobe light. People will be able to hear and see you from a long distance. It is very easy to use, and you can attach it to your handbag, your keys, and even your hair tie around your wrist. It is also waterproof, so you can take it anywhere.
This device is sleek, modern, stylish, and perfect for the college girl who is always out and about. Put your safety first, and get this personal safety alarm today!
12. Nightcap Drink Cover Scrunchie
Protect yourself on a night out with this nightcap drink cover scrunchie. It is effortless to use. You can wear it around your wrist or in your hair, and when you are ready for a drink, you can remove the drink cover from the scrunchy's hidden pocket.
This nightcap drink cover will prevent your drink from getting spiked on a night out. It will also prevent dust or debris from falling inside your drink.
This drink cover is not only cute, but it can save your life. This is the perfect gift for the college girl who loves going out for drinks and adores scrunchies.
College Gifts For Girls That Are All About Comfort
13. KFUBUO Wearable Blanket Hoodie
Can we first acknowledge how cute this blanket hoodie is? It is the perfect combo of a blanket and a hoodie in one. It even has a kangaroo pouch where you can store some snacks.
You can wear this lounging around the house when you work from home and want to be warm and comfy or even when heading to an outdoor barbeque. It's the perfect sitting-around-the-fire outfit, in our opinion.
It is a one-size-fits-all design, which means it will work for any body type, which is fantastic!
Get this for the college girl in your life who loves being warm and comfy. Trust us, she will love it and live in it.
14. Westinghouse Electric Blanket Throw
This electric blanket throw is soft, warm, and comfy. It's perfect for throwing over the bed or sofa while watching TV or reading a book. You can even throw it over your shoulders or knees when you are working. It has 6 different heating levels to choose from and a 2 to 10-hour time setting. Don't worry; it also has overheating protection to ensure your safety.
This electric blanket helps promote blood circulation and also warms and relaxes your body to relieve fatigue.
This is a great gift for college girls whose bodies are under a lot of stress. It will help them relax and get rid of that study stress. The blanket throw will also make a great study buddy. Just throw it over your knees or shoulders while studying and enjoy the warmth and comfort. It's such a cozy gift.
15. BTFBM Women's Two Piece Lounge Set
There's nothing better than a lounge set that is comfy and super stretchy. You can use this outfit to lounge around all day, run errands, or even sleep in it. It is perfect to relax and unwind in.
With this lounge set, you get the best of both worlds: an outfit that is stylish and comfy at the same time.
This will make a great gift option for a college girl, as college can be stressful. Gifting her with a lounge outfit will help alleviate some of that stress. She can lounge around in her dorm or even run errands around campus. This is not only a practical gift but a thoughtful one, too.
16. UGG Women's Fluff Yeah Slipper
Ugg, these fluffy slippers are so cute! They will offer you with convenience and comfort. They will make the perfect gift for college girls. After a long day of classes and wearing uncomfortable shoes, they can just pop these fluffy slippers on and lounge around in their dorm. It will feel as if they are walking on clouds.
These slippers are also easy to slip on and off when you are ready for bed. They will especially come in handy to avoid the cold bathroom floor at night or when you want to go get yourself a midnight snack.
Your feet never get a break, so treat yourself with these comfy fluffy slippers. Any college girl will be head over heels with this comfy gift.
17. OQQ Women' 2 Piece Tank Tops
These 2 piece tank tops are super soft and stretchy. Tank tops are versatile; you can wear them as part of a casual outfit, for the gym, or under your shirts. They are an excellent option for those hot summer days.
This is a practical gift for a college girl, as girls always need tank tops. It is one of those essential items that girls just can't have enough of. And these two flattering sweetheart v-neckline tank tops are worth investing in. Get yours today!
18. Uttermara Weighted Blanket
This weighted blanket is soft and comfy and will make you feel safe. The weight of the blanket can help you calm down and relieve stress and anxiety. It will also help you sleep better at night.
In college, you don't get much sleep because all the work and stress can worsen things.
Say goodbye to stress and sleepless nights and hello to comfort and sleeping like a baby with this Uttermara weighted blanket. Any girl loves to be comfy and snuggly. Give the gift of peaceful sleep and comfort to the college girl in your life.
College Gifts For Girls That Are All About Accessorizing
19. IEFWELL Initial Necklaces
There is nothing more special than getting someone an initial necklace. It shows you put thought into the gift.
This Iefwell initial necklace is gorgeous! It is made of white Rose Gold Plated brass and comes with two chains, one beaded and the other with the initial.
It is the perfect gift for a college girl as she can wear it daily and for any occasion. It will make her feel safe, loved, and at ease when she misses home. It's a gift that is close to the heart.
College Gifts For Girls That Are All About Convenience
20. VOBAGA Coffee Mug Warmer
Drinking your coffee only to discover that it has become cold because you have waited too long to drink it is a total mood kill. But with the Vobaga coffee mug warmer, you won't have to worry about drinking cold coffee ever again.
This coffee mug warmer will keep your coffee at the perfect drinking temperature. And if you are worried that you might forget to switch it off, don't worry, it will switch off after continuously working for 4 hours. You can even choose between 3 temperature settings. There's a setting for everyone.
This is the perfect gift for college girls who are coffee lovers. With this gift, their coffee will stay warm throughout the day, energizing and motivating them to study. Just make sure to get a flat-bottom coffee mug.
What are you waiting for? Get this coffee mug warmer for the college girl in your life, and give them the gift of warm coffee. Trust us, they will love it even more in the colder months.
21. Parima Small Travel Jewelry Case Organizer
This personalized Parima jewelry case organizer is just gorgeous! Girls always need a jewelry organizer to keep their jewelry safe; otherwise, half of their earrings end up without a partner, and their necklaces get all tangled up.
The jewelry case box material is soft and luxurious and is made from soft velvet that will protect your jewelry from scratching. The jewelry box also comes with a secret compartment for your earrings as well as a built-in compact mirror so you can see how the jewelry looks on you. Cool right?
The personalized jewelry box is light, compact, and perfect for traveling. It is ideal for the college girl who loves wearing jewelry but always complains about it getting lost or tied up in a knot. The fact that it's personalized makes it so much more special, and we can assure you that she will fall in love with it.
22. Nobligoal Portable Shower Caddy
A portable shower caddy is an essential item any college girl needs. Most girls struggle with their bathroom counter being always cluttered and disorganized, with their makeup and shower products being all over the place. But this shower caddy will keep everything neat and organized. You will now have a place to store your toothpaste, toothbrush, hair products, makeup, and even medical items.
The shower caddy is made of high-quality Oxford fabric, it's water-resistant and easy to clean. It has more than enough storage space for your items. It even has a clear, waterproof pocket that is very convenient to put your phone in and scroll around to chat with friends, listen to music, or even watch your favorite shows. Now, this is what we call convenience.
Its durable hook makes it easy to hang anywhere and saves space in your bedroom or bathroom.
This is an excellent gift for a college girl who loves traveling and needs a lot of storage space to keep all their items neat and organized. This is a gift of organization that any college girl would love and appreciate.
Say goodbye to clutter and disorganization and hello to neatness. Trust us. Her roommates will thank you, too.
23. Huonul Makeup Mirror Vanity
Any girl obsessed with makeup and skincare would love this makeup vanity mirror. It has Built-in 21 LED bulbs and 2X,3X,10X magnification modes. This makes you see your face clearly and will help you do your makeup flawlessly. You can put it on your desk or even hold it comfortably in your hands when you want to use it.
Its switch is easy and convenient to control. Doing your makeup has never been this easy before.
This would make the perfect gift for the makeup-obsessed college girl. Give her the gift of flawlessness with this makeup mirror vanity.
24. EUOW Travel Cosmetic Bags Barrel Makeup Bag
Make your makeup routine more efficient and enjoyable with this travel makeup bag. This makeup bag is super adorable, lightweight, foldable, and portable, making it easy to take with you wherever you go.
Your makeup can be placed separately in this makeup bag, making it more organized and easier to find your makeup items. Whether traveling or at home, this makeup bag will be great for keeping all your makeup neat and organized.
Get this gift for the makeup guru college girl that's makeup needs some organizing.
25. iWALK Mini Portable Charger for iPhone
Charging your phone is always a hassle. You always need a cable, and for some reason, the cables always seem to go MIA. But with this iWalk Mini Portable Charger, searching for a cable to charge your phone is a problem of the past.
This portable charger is mini and the size of lipstick, so it is easy to take wherever you go. All you have to do is plug it into your phone and charge it. It's literally as simple as that.
We girls like to be on our phones scrolling social media and chatting to our BFFs. Before we know it, our phone's battery is dead. With this portable charger, you won't have to worry about your phone dying on you again.
This portable charger is for college girls who are always on their phones and who are always struggling to find a cable. This is a life-saving gift.
26. Kimwood Rechargeable 60 LED Selfie Ring Light
Do you love taking photos, but when you are finished taking them, they are all blurry? We have just the solution for you! This LED Selfie ring light will make your photos look brighter and more three-dimensional with its soft and stable light source.
It has dimmable light modes and 5 levels of brightness that will help you achieve smooth shooting and a perfect photo. It has 60 LED lights, and you can have up to 2.5 hours of fun with it before you need to charge the ring light again.
For the college girls who are obsessed with taking photos, making TikToks, or even doing their makeup under the perfect lighting. This will be a fabulous gift for them. This ring light will ensure that you never have a blurry photo ever again.
College Gifts For Girls That Are All About Accessorizing
27. Sisiaipu 4 Inch Big Hair Claw Clips
These 6-pack large claw clips are perfect for everyday use. They are handy when you need to put your hair up while cooking, working, doing your makeup, or even bathing. They are easy to use and look cute and stylish.
The best part is they are durable and high quality, so they won't just break up with you like most claw clips or lose their teeth. These claw clips will last you a long time. They make the perfect gift for college girls as they can put their hair up while studying or try different hair looks. This is a stylish and functional gift.
28. Sunborls Travel Laptop Backpacks
This backpack is simple but stunning. It has enough storage space for your books, stationery, and even your laptop. It is durable and comfortable with its padded shoulder straps and will surely last you a long time.
This backpack is ideal for college girls who need a bookbag for classes to store their books and notebooks. It has plenty of pockets to store your important goodies in and adjustable straps for more comfortable wear. It is everything a college girl needs for her studies and the bonus is she will look good wearing it because of its modern touch.
29. IBFUN Weekender Bag
Every college girl needs a weekend bag if they want to go home for the weekend or go and visit some friends. And this is the perfect weekend bag for the job. It can fit your clothes, toiletries, makeup, and laptop.
What we like about this weekender bag is that it has a separate compartment at the bottom where you can store your shoes or dirty clothes. How cool is that?
It even comes with two smaller bags. One you can use as a handbag and the other as a toiletry bag. One thing is certain: your items will be organized with this weekend bag.
Get this fun weekend bag for the college girl in your life who loves traveling and needs some help with staying organized. This IBFUN weekend bag definitely brings the fun factor.
30. Garmin Smartwatch
The Garmin smartwatch is perfect for someone who is always on the go. It is easy to use, durable, and has a battery life of up to 6 days. This makes it convenient because you don't always have to carry its charger with you. It even has preloaded workouts so you can stay active and achieve your fitness goals.
The Garmin smartwatch is an excellent gift idea for a college girl as it will motivate her to stay active, achieve her goals, and monitor her health. The customizable watch faces are also great, as she can match her outfits each day with a different watch face. This is a stylish gift for a college girl and a practical one, too.
31. Anban Glitter Plastic Hard Shell Case & Keyboard Cover
This glitter shell case is just stunning! It will give your Macbook a new and improved look and protect it from getting scratched.
The case clips on easily and is of great quality. It will make a very cute and thoughtful gift to the college girl in your life who loves beautifying all her items and adding her personal touch to things. It will also keep her Macbook looking brand new all through college. We love this!
College Gifts For Girls That Are All About Decor
32. Sukeen Modern Mirror Desk Wall Clock
An alarm clock and a mirror in one? Now, that's what we are talking about. You can choose between 3 brightness levels to protect your eyes at night. Alarm clock at night a mirror by day. It also has a big snooze button, so you can easily snooze your alarm without even opening your eyes.
It looks stylish and modern and will look good with any room decor. You can't take your mom to college, but this alarm clock will do a great job waking you up in the mornings. Never make the excuse of oversleeping again.
This modern mirror alarm clock is perfect for college girls who always oversleep. This alarm clock will help them keep track of time, and they can even make sure their makeup is on fleek with it being a mirror. It's a 2 in 1 gift that is practical and cute.
33. Magnoloran 20 Photo Clip String Lights
Add a touch of elegance and creativity to your college dorm or apartment with these photo clip string lights. Each photo clip has its own LED that emits a warm white light. There are so many ways of hanging them, so it allows you to get creative.
You can hang these lights above your bed or in your lounge. It will definitely add a relaxing atmosphere to any room you decide to put it in. It is a unique way of displaying the photos that are important and close to your heart.
It will make a very thoughtful and sentimental gift to a college girl as she can clip all her favorite photos and watch the wall come to life. Whenever she gets lonely and misses home, she can look at the photo clip string lights and remember there are people who love and care about her.
34. LFS Portable Bluetooth Speakers
This Bluetooth speaker is so beautiful. You can use it as a light, a speaker, or both. It can last up to 6 hours. It is amazing for daily use. It is lightweight and can be carried anywhere you want.
The Bluetooth speaker's 5 different color-changing theme patterns and its gorgeous design make it look chic and elegant.
When the speaker is dimly lit, it creates a relaxing, rejuvenating atmosphere. The Bluetooth speaker is water resistant, but please take note that it cannot be partially or fully submerged.
This will make an excellent gift for a college girl who loves adding fun and unique elements to her dorm or apartment and also loves hosting parties with cool music. Trust us, you will be the life of the party with this portable Bluetooth speaker.
College Gifts For College Girls That Relieve Stress
35. Pure Enrichment® PureRelief™ XL Heating Pad
This heating pad has 6 different heat settings. It provides complete body pain relief. Whether you are struggling with cramps because Aunt Flow decided to come to visit or you have tension in your muscles because of stress from studying, this heating pad will help relieve your pain and help you relax.
The heating pad heats up quickly so your pain can be relieved faster. It would be an excellent gift for college girls who struggle with menstrual cramps every month or battle muscle aches from stress or sports. Say goodbye to pain and hello to relief and relaxation with this heating pad. It makes a very thoughtful gift.
36. NIUONSIX Heating Pad for Neck and Shoulders
Do you have neck and shoulder pain from all the studying you've been doing? Well, we have the perfect product for you! This heating pad is ideal for sore neck and shoulders. It has 6 different temperature settings that you can choose from if you just want to relax or relieve some pain.
It is very easy to use and incredibly soothing and comfortable. It perfectly contours to the curves of your neck and shoulders, and its weighted edges provide you with a fit that is snug and comfortable. We especially love the soft fabric of this heating pad, as it feels very gentle on your skin. And the option of using it as a dry or moist heating pad makes this product so much more effective.
This is for the college girls who carry all their stress in their neck and shoulders. Giving a gift that helps you get rid of stress and helps you relax is a precious and thoughtful gift, in our opinion.
37. TheraGun Mini Handheld Electric Massage Gun
With this electric massage gun, all your tension will melt away within minutes. It provides you with all the benefits of percussion therapy but in a convenient pocket size. This device might be small, but trust us, it is powerful. You have 3 speeds to choose from, and it's ultra-quiet.
Its ergonomic design makes it easy to grip and use. This will make a great gift for college girls who have a lot of cramps and knots in their bodies. You will feel the tension leave your body in only a few minutes of using it. It's the perfect gift idea for the college girl who is always busy and on the go.
38. WHAT DO YOU MEME? for The Girls
Make girl's night extra fun with this what do you meme game. How the game works is that girls have to compete against each other and see who collects 25 cards first. The cards can be about your skincare, your dad, who's more likely to, and even some fun dare situations.
It makes a girl's night fun and interesting, and you all get to learn more about one another. This is the perfect gift for a college girl who loves board games or loves hosting game nights with her girlfriends. Give the gift of laughter with this game.
39. Jewenova Sterling Silver Sunflower Fidget Ring
This spinner ring not only looks beautiful, but it will help you relax and relieve some stress. It is engraved with "You are my sunshine", in the inner ring, and the sunflower part of the ring spins.
The sunflower ring is made of 925 sterling silver and gold plating, so you don't have to worry about your fingers turning green when wearing it.
This is the perfect gift for a college girl as it will help them focus their attention on their studies while getting rid of their stress at the same time. It is also perfect to wear for any occasion. Bring some joy and positivity by getting this as a gift for a college girl. It is sure to put a smile on her face.
40. QAQcew Fidget Pen
This is a very cool and creative pen that does not only write but can transform into different objects. With this fidget pen, you can create patterns, sculptures, and different shapes. It will really put your imagination and creativity to the test.
This magnetic pen is great for relieving stress and anxiety and will also help the time pass if you're bored.
This is a cute gift idea for college girls who are stressed with all things college. Writing with the pen and transforming it into different shapes and sculptures while studying will help the girls get rid of their stress and just take a breather.
Final Thoughts: Best Gifts for College Girls
College is a significant change in a person's life; for some, it might seem like the scariest thing they have done in their entire life. But it is all part of growing up and transforming into an adult. Everyone likes gifts. It makes us feel loved and appreciated. And getting a girl a gift they can take to college will make them feel more comfortable and excited for this new chapter in their life.
In this best gifts for college girls guide, we provide you with everything a college girl might need to make her life at college easier. From comfy clothes, relaxation, and stress relief products, keeping safe products to cute accessories.
We hope this gift guide has made the challenge of getting a gift for a college girl easier. What was your favorite gift idea mentioned in this article? Let us know in the comments below.
Have fun shopping and good luck with college girls. You got this!