The Ultimate College Packing List for Freshman Students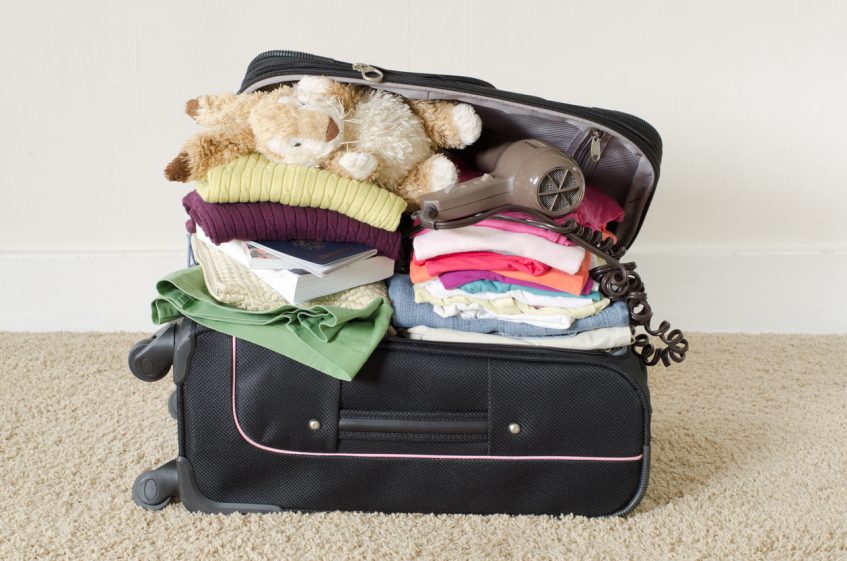 Moving out of your parent's home into your own college dorm room or off-campus apartment is super exciting but, at the same time, super overwhelming. But don't worry. We are here to make things easier for you and to save you some time with our ultimate college packing list for freshman students.
You will find the essential items you must pack for college in this list, from clothing and accessories to medicine and snacks to decor that will make your room feel comfier. Our ultimate college packing list will help make your new room or apartment feel like home and ensure you don't leave anything important behind.
Are you ready? Let's get packing!
Clothing and Accessories
It's clothing time, guys and girls! Can we all agree that clothing is the most important thing to bring with you? Packing the right clothes and accessories is very important not only so that you can feel and look your best but also so that you don't overpack and bring items you will not wear.
It would be best to keep the weather of the place you are going to in mind, so that you can pack your clothes accordingly. If the college is situated in an area that experiences all 4 seasons in one day, then OH BOY, you will need to pack various clothing items. The other thing you will need to remember is whether your dorm or apartment has a washer or dryer? If not, you will have to pack at least a week's outfits so that you have enough outfits and can figure out the washing over the weekend.
Are you ready to get those outfits and accessories ready? Let's go!
◻ T-Shirts/blouses – It is comfy but still stylish.
◻ Tank tops – For those days that it feels like you are living in an oven.
◻ Dressy tops – If you have a meeting, interview, or date.
◻ Long sleeve shirts – You can be warm on those colder days.
◻ Sweaters/hoodies – You know, a mixture of comfort and warmth.
◻ Light Jacket – For those days when it's slightly chilly.
◻ Heavy winter coat – For those days when it feels like you might freeze to death.
◻ Raincoat – On those days when it's raining, and you need to walk to class.
◻ Pants/leggings/jeans – For comfort and convenience. Leggings and jeans literally go with anything.
◻ Sweatpants – When you want to be comfy and lounge around.
◻ Shorts – For those warmer days when you want your legs to get some sun.
◻ 1 complete professional outfit – When you have an interview or meeting, and you need to look professional.
◻ Semi-formal wear – If you have a dress or a suit to wear to formal dances, you can pack it but don't go out of your way to buy something.
◻ Workout clothes – So that you can stay active.
◻ Pajamas – Pack some cute, comfy pajama sets.
◻ Bathrobe – To wear after you have bathed or showered and want to do your skincare routine.
◻ Underwear – You can never over-pack with underwear, so make sure you pack enough.
◻ Socks – Socks are the same as underwear. You can never overpack as some of them might go missing, or your friends or the washer might kidnap them.
◻ Swimsuit – If you and your friends want to go swimming.
◻ Hat/scarf/mittens – Accessories for those freezing cold days.
◻ Sneakers/walking shoes – Comfy shoes for everyday wear or if you want to go on walks.
◻ Boots – Comfy and will keep you warm all winter long.
◻ Rain boots – For those rainy days when you don't want to ruin your dressy shoes or white sneakers.
◻ Dressy shoes – Cute heels for ladies and stylish closed-toe shoes for guys.
◻ Slippers – To lounge around in your dorm or apartment.
◻ Business casual shoes – Comfy shoes that look professional and suited for meetings or interviews.
◻ Belts – To finish off your outfit with style.
◻ Jewelry – Pack jewelry you are not attached to and won't feel sad about if it has to get lost.
◻ Sunglasses – For a classy and stylish look, and to block the sun and haters out.
◻ Eye mask for sleeping – To isolate yourself from the world and enter your dream world.
◻ Travel sewing kit – It always comes in handy when you least expect it.
Laundry and Cleaning
How much do you enjoy doing your laundry? LOADS!! Okay, let's be honest. No one likes cleaning or doing laundry, but unfortunately, when you are off to college, you are on your own and need to figure it out. You can't ask your mom to remove that annoying stain from your favorite shirt because she isn't there. We know this is stressful, but packing these items below will make doing your laundry less of a hassle.
Ready? Set? Laundry time!
◻ Laundry bag/basket – This will help keep your room organized so that your dirty clothes aren't scattered around the room, and you don't know what is clean and what isn't anymore.
◻ Lingerie bag – For your underwear that is more delicate. Use a specific bag designed for your underwear to last longer.
◻ Laundry detergent/fabric softener/stain remover – If you need to wash your laundry, want extra soft clothes, or want to remove stains.
◻ Dryer sheets/dryer balls – So that your clothes can be even softer. It will also help decrease the drying time. How cool is that?
◻ Wrinkle release spray – To remove those wrinkles from your clothes because no one wants to look like they just chose an outfit out of their dirty laundry basket.
◻ Lint brush – To remove those hairs that just won't leave you alone and have attachment issues.
◻ Clothes hangers – So that you can hang and organize your clothes.
◻ Coins for washer/dryer – Always keep a few coins with you if you need them for laundry in case your dorm/apartment doesn't have a washer/dryer.
◻ Iron and iron board – If you need to iron formal clothes.
◻ Drying rack for clothes – You can dry your clothes if you don't have a dryer.
Linen and Bed Essentials
Just like your clothing, you need to keep in mind to pack extra linens and bed sheets if you don't have a washer and dryer in your dorm or apartment. And even extra bath towels because no one likes drying themselves with a wet towel. Also, keep your comfort in mind regarding your bedroom essentials. After all, you need a good night's rest. Let's look at the items you must pack: "It's a towel or never!"
◻ Pillowcases – You should bring at least 2 sets.
◻ Sheets – You can bring 2-3.
◻ Pillows – You can bring 1-2, depending on the bed you will have.
◻ Blankets – Bring the blankets you want on your bed and an extra 2 that you can pack away in your closet for those colder months.
◻ Bedspread/comforter – Pack a cute comforter that will make your room feel more like you.
◻ Bed Skirt – It will help hide the mess under your bed.
◻ Foam topper – For that extra comfiness.
◻ Bed Bug proof mattress topper – Because you don't need sleeping buddies.
Bedroom, Organization, and Decor
Guys and girls, you will live in that dorm room/apartment for quite some time. So, it is important to organize and decorate your room and make it feel like home. So here are some essential items you will need to pack to organize and decorate your room and store some of the items you aren't using right away. Are you ready? Let's go!
◻ Under-the-bed storage trays – These will help store away the items you are not using right away, and they will help save up some space.
◻ Storage bins – You can put these in your closet or under your bed to keep things organized.
◻ Bedside lamp – Perfect for a book reading at night or if you want to study from bed.
◻ Desk lamp – Perfect for homework and studying.
◻ Alarm clock – This will be your mom and will help you wake up in the mornings.
◻ Fan – For those days that you feel like you are boiling.
◻ Mini trash can – To throw away papers or empty packets.
◻ Mini toolkit with wrench, screwdriver, and hammer – If you need to set something up.
◻ Picture hangers – So that you can display your beautiful photos.
◻ Bulletin board and push pins – To pin your schedule, notes, or plans for the month. Remember, Freshmen, those who do not plan, plan to fail.
◻ Dry-erase board/calendar will help you stay organized and on schedule and prevent last-minute freakouts.
◻ Wall art – To give your room some life and character.
◻ Throw rug – To bring in that comfy vibe.
◻ Poster tack, command strips, or heavy-duty tape – If you need to hang things.
◻ Light bulbs – It is always great to pack extra light bulbs, as you never know when one light bulb's life might come to an end.
◻ Plants/fake plants – To bring style, comfort, and life to your room.
◻ String lights – So that you can add your personality to the room and give it more of a homey feel.
◻ Makeup mirror – It will help you to create a flawless look every day.
◻ Full-length mirror – It will help balance out the room. And you can also see your OOTD (Outfit of The Day) every day before going out.
◻ Folding chair or futon – Extra seating space.
◻ A small set of drawers – To keep things organized.
Desk/School Supplies
Okay, so it might be easy to get school supplies when you are already at college, but there are still a few items we feel are essential to pack so that you don't have to worry and run around at the last minute to find everything for your first day.
◻ Printer paper – If you have a printer.
◻ Extra print cartridges – If you have a printer.
◻ Pens and pencils – Great for your writing needs and for conveying your thoughts and feelings.
◻ Highlighter pens – To highlight important info. They are also great for studying.
◻ Pencil holder – To hold your stationery.
◻ Sharpener – So that you can keep things sharp.
◻ Glue – So that you can stick things together.
◻ Ruler – So that you know where to draw the line.
◻ Eraser – So that you can pretend it never happened.
◻ Scissors – Snip, snip, snip away.
◻ Notebooks – For important notes and homework.
◻ Backpack – To hold your books and stationery for classes.
◻ Labels – So you can put a label on it.
◻ Sticky notes – These will come in handy when you want to create cute notes for classes. You can never have enough of them.
◻ Index cards/ Note cards – To make studying fun.
◻ Folder with pockets – To organize your papers and documents.
◻ Binder clips and paper clips – If you want to bind your homework or assignments together.
◻ Stackable desk trays – To keep your desk neat and organized and everything in its own space.
Electronics and Technology
So, we are sure you already have this category covered; no freshman student will forget to pack their phone; their life will literally be over. Okay, that sounds a bit dramatic, but some items you might have missed or completely forgotten about, and it might make things easier for you. Let's have a look at what electronics and technology you need to pack.
◻ Laptop – Of course!
◻ Printer – Optional
◻ Camera – If you want to take cute photos of you and your friends or for projects.
◻ Cell phone – Well, duh!
◻ Headphones – To eliminate the sound of your loud dorm room partner.
◻ 3-2 prong adapters – To plug your chargers in.
◻ Charging cords – You need to stay connected.
◻ Extension cords – To make charging your devices easier and more convenient.
◻ Surge protector – Important for protecting your electronic equipment from spikes or surges.
◻ HDMI Cord – If you want to watch a movie on a bigger screen than your cell phone.
◻ Router – If the dorm or apartment doesn't come with Wifi.
◻ Charging cube – To keep your wires neat and organized.
◻ Wireless mouse – For convenience.
◻ External hard drive – It is very useful, and you can back up important info of your computer.
◻ Tablet or E-reader – For reading, studying, or drawing.
◻ Video game system with its games – When you want to take a break from your studies and relax or have fun with friends.
◻ Flash drive – For important documents or files.
◻ Batteries – Extra batteries always come in handy for your wireless mouse or the TV remote.
◻ Portable charger – To make things easier when you are on the go.
Shared Roommate Items
Are you sharing your dorm or apartment with a friend? Well, here are some items you will want to consider packing. Sharing is caring. But you will first want to ensure these items are allowed before you bring them. Let's take a look:
◻ Tv – So you can relax and watch your favorite shows together.
◻ Audio equipment – So you can play and record sounds.
◻ DVD player/Media player – If you and your dorm mate have the same taste in movies.
◻ Coffee maker – If you and your roommate need a pick-me-up.
◻ Microwave – If you don't have time to cook, and just want to heat up a ready-made meal.
◻ Hotpot – If you want to make a delicious soup pot for those colder days.
◻ Small refrigerator – If the college or apartment doesn't have one.
Bathroom and Toiletries
Toiletries are also one of those categories that are easily forgotten because we only think about the basics, like shampoo, conditioner, toothpaste, and soap. But did you remember to pack your dental floss, q-tips, and mouthguard? No? Well, let's run through the bath and toiletry essentials you will need to pack as a freshman:
◻ Shower shoes – It is more hygienic if you share a bathroom with other students.
◻ Shower caddy – To keep your shower products neat and organized.
◻ Bath and face products – To stay clean, fresh, and moisturized.
◻ Shampoo and conditioner – To keep your hair fresh and clean.
◻ Hair styling products – So that you can style your hair when you are going out or have an important meeting or interview coming up.
◻ Toothbrush and toothpaste – So that you can maintain those pearly whites.
◻ Mouthwash – For fresh breath.
◻ Deodorant – So that you can always smell your best.
◻ Contacts and contact solution – So that you can see clearly every day.
◻ Dental floss – To reach those areas in your mouth that your toothbrush can't.
◻ Brush – You will be surprised how many students forget their hairbrush at home. Please remember to pack it. It is much easier to style your hair with a brush than your fingers.
◻ Hair dryer/straightener/curler – To style your hair and avoid those bad hair days.
◻ Nail clippers – Important for your self-care routine.
◻ Tweezers – To get rid of those unwanted hairs.
◻ Razors and shaving cream – This is optional. If you like having a clean-shaven look, then remember to pack your razor and shaving cream.
◻ Feminine hygiene products – Because Aunt Flow might come visit early.
◻ Lotion – To stay moisturized.
◻ Sunscreen – Because being as red as a lobster is not a good look.
◻ Q-tips – Well, they say it is unhealthy to use them in your ears, but you can still use them to remove your mascara, nail polish, or even dust from your keyboard.
◻ Retainer/mouthguard – To protect your teeth during sports or at night when you are sleeping and to also prevent your teeth from moving if you had braces.
◻ Washcloths, hand towels, bath towels – To wash and dry your body with.
Medicine
No one plans on getting sick, and sometimes it can just happen out of nowhere; one moment, you are feeling fine, and the next, you don't want to get out of bed. Medicine is not always something we tend to think about because we usually just go to the medicine cabinet at home and take what we need. But now it's important to get your own everyday medicine to create your own medicine cabinet at your college apartment or dorm. This way, you are prepared when a bug or headache creeps up on you.
Let's see what you will need to pack to create your very own medicine cabinet:
◻ Cough drops – For when you get a cold.
◻ Antacid – If you have heartburn or indigestion from the food you had.
◻ Antidiarrheal medicine – You never know; it might happen to you.
◻ Aspirin or other pain relievers – To relieve those aches, pains, and stubborn headaches that come from studying too much.
◻ Vitamins – To maintain a healthy immune system.
◻ Antibiotic ointment – If you get a minor wound like a scrape, cut, or skin infection.
◻ Adhesive bandages – An adhesive band will help keep the bacteria out when you cut yourself or get a scrape.
◻ Melatonin – It will help decrease your anxiety and help you sleep better at night.
◻ Benadryl or other allergy relief – If you have allergies, and they start acting up.
◻ Prescriptions – If you are on a certain medication that can only be prescribed by your doctor, it is important to remember to pack it.
◻ Birth control – Babies are cute, but you don't want them in college.
◻ First aid kit – Always important to have around so that you are sorted for any situation.
Household, Kitchen, and Cleaning
So, here's the good news: you will run your own household. But here's the bad news: you are responsible for cleaning the household, making food, and keeping things in order. Yes, it's a lot of responsibility, but our checklist has made it easier for you. Here are things you will need to pack to prepare your food, keep your new "home" up and running, oh and, of course, sparkly clean.
◻ Toaster – To make yourself some yummy toast in the morning.
◻ Mugs – For coffee, tea, or hot chocolate.
◻ Plates – To eat off of. You can also pack paper plates if you hate doing the dishes.
◻ Glasses – For drinks.
◻ Cutlery – To prepare and eat your food with, so that you don't have to eat with your hands.
◻ Paper towels – If you need to dry your hands or clean up something you have spilled.
◻ Can opener – You will need it more than you think.
◻ Water bottle – So that you can stay hydrated.
◻ Dishwashing detergent and dish towel. For washing and drying the dishes.
◻ Travel mug – You can take your coffee or tea on the go.
◻ All-purpose cleaner – So that you can spring clean your dorm or apartment.
◻ Dusting cloth – To keep your counters and furniture dust free.
◻ Handheld vacuum/ mini broom and dustpan -You can just scoop up the dirt and dust in your dorm or apartment and have a healthier environment.
Drinks/Foods/Snacks
This is probably every college student's favorite category to pack for college. Why, might you ask? Although college is a fantastic experience, you might be living on a strict budget. You won't have the finances for luxury items, so you will miss the food at home. But don't stress. This is where this list of ours comes in handy. With this list, you can eat well while saving time and money. Sounds good? Let's have a look at the list and get packing:
◻ Cereal/oatmeal – For a yummy filling breakfast.
◻ Coffee, sugar, cream, coffee filters – When you need energy or just crave a cup of joe.
◻ Microwave popcorn – For those fun movie nights.
◻ Easy to make meals – To save you time when you are studying.
◻ Quick energy snacks – Snacks that you can eat on the go and will give you a boost.
◻ Food and snacks that you can only get at home – Your favorite foods you can only find at home. Bring them with you to be your comfort food when you miss home.
Documents
You may haven't even considered this category, but trust us, it is very important, and you don't want to forget them. We suggest you bring the electronic version of the documents or the hard copies, as you will require these documents somewhere during your college year. So it is better to have everything prepared from the very start. Let's see what documents you will need to pack:
◻ License – So that you have proof that you can drive (Hopefully).
◻ Passport – So you can travel with your friends aboard.
◻ Copy of birth certificate – For school registration purposes.
◻ Copy of social security card – If you want to head to the club but still look like a middle schooler.
◻ Credit/debit cards – If you need to buy your own groceries or need an outfit or two. Or if you forgot something on this list.
◻ Car registration and insurance info – So that you have proof of ownership and insurance.
◻ Health insurance card/Financial aid information – In case your medicine cabinet also needs medicine and didn't do its job.
◻ Emergency contact list – For if you're in a pickle.
◻ School ID or the paperwork to get one. – So that you can access campus and learning material.
Miscellaneous (a Mixture of Bits and Bobs)
So, this is the odd category where you will use the items, but maybe not that regularly. But it is still important to bring them with you. Let's have a look at our suggestions.
◻ Spare a pair of glasses – You never know. You might stand or sit on your glasses and need a new pair right away.
◻ Sports equipment – If you are going to play sports or hit the gym.
◻ Umbrella – When the weather is raining and pouring, and you need to head to class.
◻ Safety whistle – Always put your safety first.
◻ Flashlight – If you and your friends want to explore at night or for some reason there's a power outage.
◻ Board games – Something fun to do over weekends and if you are missing home.
◻ Luggage – To pack your clothes and accessories in if you are going away for a while.
◻ Weekender bag – Perfect for going home for the weekend or staying over at a friends.
◻ Sleeping bag – If you and your friends want to go camping.
◻ Ear plugs – Also great for blocking out your loud dorm mates.
Final Thoughts
Getting your things ready for college is definitely a mixture of emotions. One moment you are super excited about this new chapter that awaits you, and the next moment, you are bawling your eyes out because you are going to miss your family and friends.
Packing is always difficult. What do you pack? How do you not overpack or not leave the essentials behind? We hope our ultimate college packing list helps you out by saving you time and stress. What category stood out to you? Is there something on the list that you would have forgotten about? Let us know in the comments below.
Enjoy your time at home before college, and good luck with the packing. With this list, we know you will be ready to shine. Good luck, Freshman! And please don't forget your cellphone charger; we all know you can't live without it.