Best DIY Halloween Décor Ideas
Halloween this year is not the same as usual because of the pandemic. There will be no trick-or-treat and probably no Halloween parties, but we still need that spooky atmosphere to enjoy this day. You can make it feel more like a Halloween to decorate your bedroom or your dorm room using our easy and effortless decoration ideas. Keep reading, and let's get started!
Paper Silhouettes
Paper decorations are the easiest ones to make, and they will not hurt your budget as all you need is some paper, scissors, and thread. You can use color paper or paint it with acrylic paint or a marker – use what you have on hands.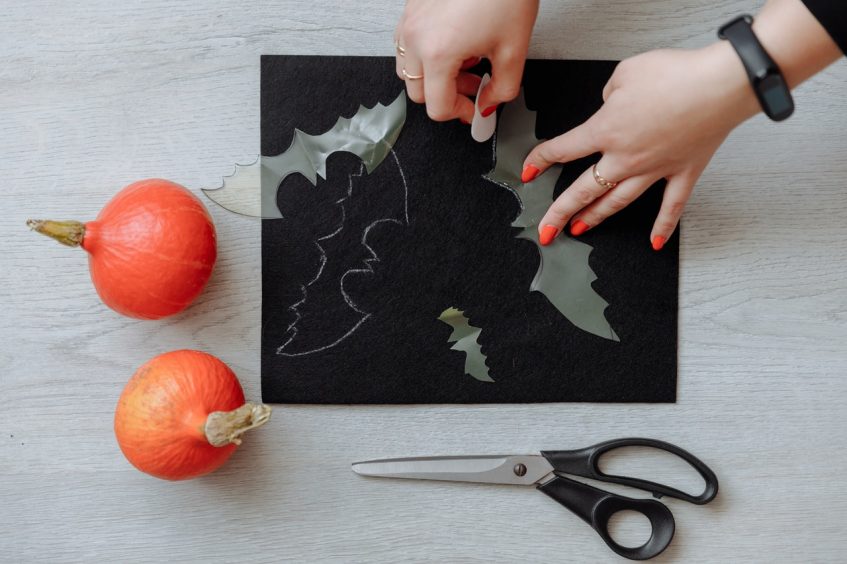 Source: Pexels
Print out some cool silhouettes (owls, bats, pumpkins, skulls, etc.) and trace them onto your paper. Cut them out – as many as you need and connect them using a thread to create a garland and decorate your walls, doors, and your desk. You can also use these silhouettes separately using some double-sided tape to stick them to the walls or your drawer. 
Bat Branches
If you have some more paper bats left, you can use them to create a spooky centerpiece to put on the table in your room. You will also need some thin branches that you can pick up at the forest or park or at the local craft store for this DIY project, a big transparent vase and some string light.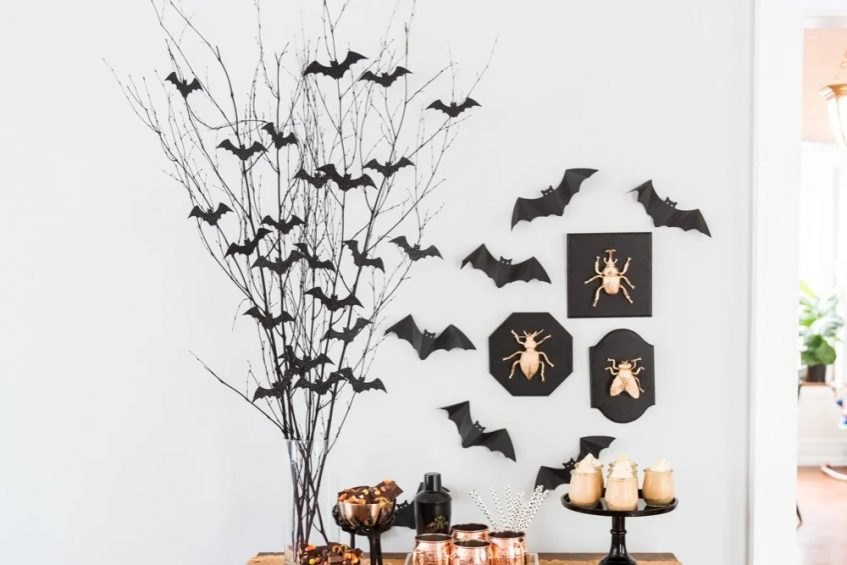 Source: TheSweetestOccasion
Put your branches into the vase, stick some paper bats to them using double-sided tape or a hot glue gun. Put your string lights into the vase or tie them around the branches. And voila – your central piece is ready. You can also add details that you like, like a fake spider web, flowers, or some candies.
Tin Can Lanterns
If you have some empty tin cans that you don't need, you can use them to create some beautiful and spooky lanterns. You will also need a nail or some sharp tool and a hammer to make holes in the tin cans. 
First off, spray the tin cans with the paint of the color of your choice. It might be a classic black or orange, golden, silver or bronze color, or any other color which you like. Leave them to dry for at least 8-12 hours. Now you can start decorating them. As we are going to put some candles inside of the cans (remember, that led candles are much safer to use indoors than real candles), we will need to make some holes.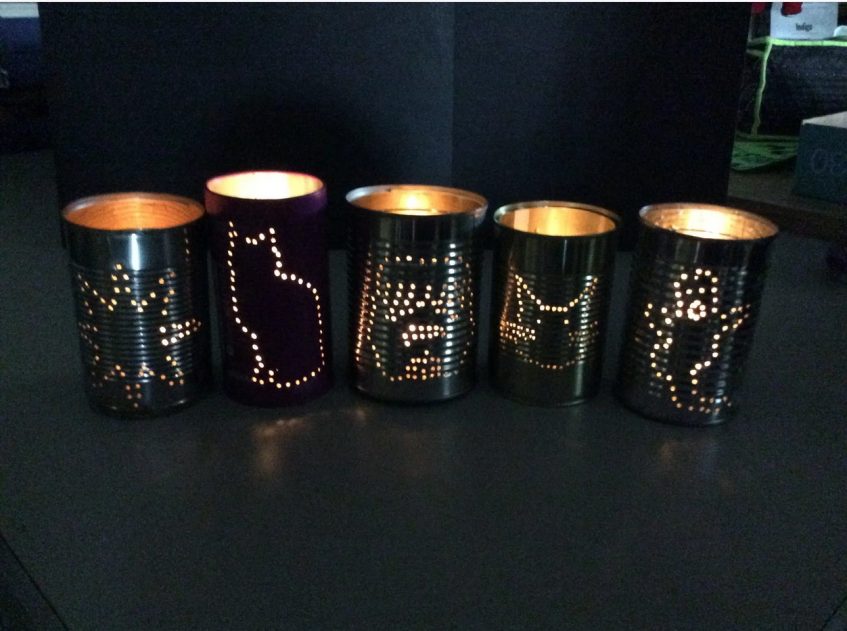 Source: Rebelsmakerspace
You might start making holes in random order or create a beautiful pattern to make the light go through them and create shadows on your walls. You can also create words or silhouettes – in other words, you can be as creative as you wish. 
When everything is done, put candles inside your lid cans and put them on the table or gather them using some thread to create a garland that you can hang in your room. By the way, have you checked our blog post about the best Halloween costumes for guys? If not, you definitely should.

Bloody Handprints
If you need to add some scary details to your interior, but you don't want to ruin your walls and furniture with paint, this DIY is just for you. You will need some PVA glue and red acrylic paint.
Put glue on your hand. Make sure the layer is thick. When the glue is dry, paint it with red acrylic and remove the whole piece from your hand. Now you have some spooky handprints that you can put anywhere you need.
Floating Ghosts
If you want to add some ghosts to the scene and instantly make your place look more like it's Halloween, prepare some white balloons. You will also need a black marker, some white gauze, and a few glowing sticks.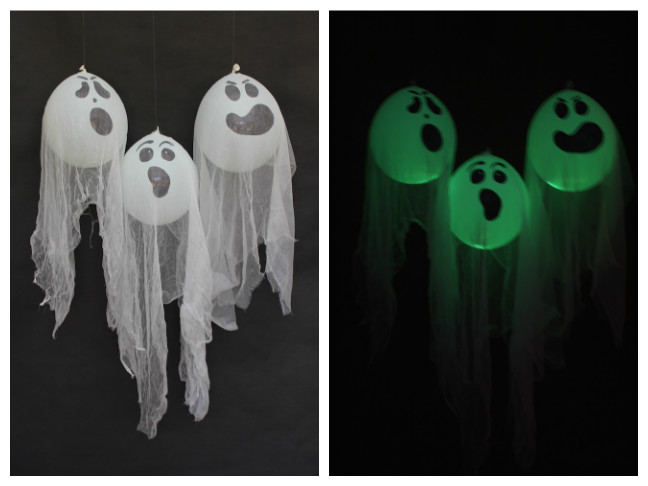 Source: Momtastic
Snap a glowing stick and put it inside a balloon, inflate it, draw some scary faces on it with a black marker and cover them with gauze. After that, you can hang your balloons whenever you need, shredding the gauze at the bottom to add some eerie look to them. You can also use white Styrofoam balls instead of balloons. These guys look definitely scary enough for a Halloween mood.

Galaxy Pumpkins
Decorating pumpkins is the funniest thing to do for Halloween – there are so many ways you can do that; just be creative. One of the ideas on how you can do it is to decorate your pumpkins with galaxy patterns and golden constellation.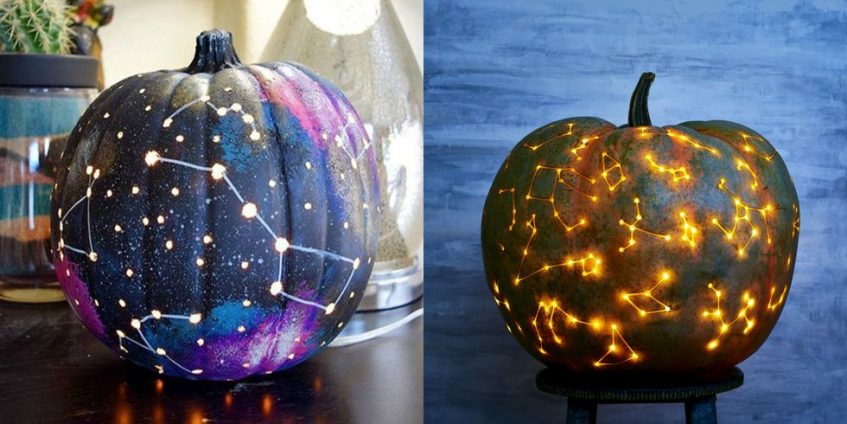 Source: Pinterest/Roberta Chavez/Martha Stewart Living
To do that, you will need some acrylic paints, golden beads, or sequins (or any small sparkling things that you can glue down to the pumpkin to make it look covered with stars). You can also make the real holes in the pumpkin in the places where the stars should be, so the light will come through the holes. Creativity is what you need this holiday season to make this time really funny and in order to forget for some time about the pandemic and all the world's situation.
These were the best DIY Halloween decoration ideas for you to try this year. Don't be sad if your Halloween plans were canceled, as there are many other things that you can enjoy during this holiday season. Good luck!