Super Bowl Party Ideas for Students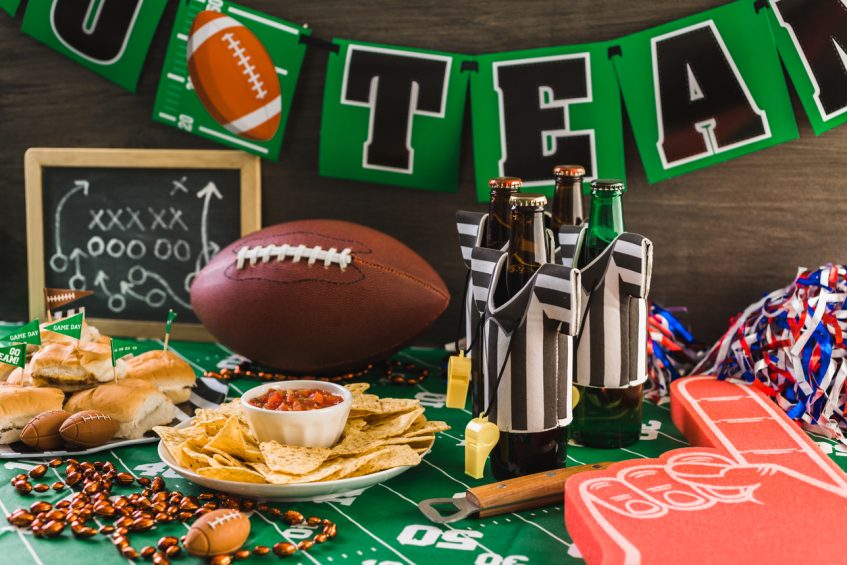 Modified on July 25, 2023
The Super Bowl, the championship of American football, is a cultural phenomenon that unites people from all walks of life in addition to being a highly anticipated athletic event. The Super Bowl has come to be associated with exhilarating advertising, enthralling halftime shows, and, of course, spectacular parties, even if the game itself is a marvel of athleticism and strategy. Hosting a Super Bowl party as a student offers an exciting chance to embrace the spirit of this important athletic occasion, connect with friends, and make priceless memories.
This detailed post will explore a variety of Super Bowl party suggestions that are especially suited to the requirements and financial constraints of students. We will look at many tactics to make sure your Super Bowl party is a smashing success, from setting up an energetic game-day environment and arranging a delicious cuisine to setting up interesting games and adding unique twists.
Our objective is to give you useful advice and ideas to host a memorable Super Bowl party, regardless of whether you are a die-hard football fan or just appreciate the excitement around the occasion. We recognize the limitations of a student budget and strive to provide innovative, economical alternatives without sacrificing fun or excitement.
As we provide a variety of Super Bowl party ideas that will enthrall your guests while making your event the talk of the campus, be ready to get lost in the world of football enthusiasm. Let's dive in and discover how to host the ultimate Super Bowl party for students!
1. Set the Scene for Game Day
Transform your living area into a vibrant game-day setting to create the perfect Super Bowl mood. Use banners, streamers, and team colors to decorate your area. Make a specific place with soft cushions, bean bags, or folding chairs for people to sit. To improve the atmosphere, think about utilizing tablecloths, dishes, mugs, and napkins with football themes.
2. Plan Your Menu
For every Super Bowl party, food is a need. Choose a buffet-style setup so that people may feast during the game. These dinner suggestions are suitable for students and simple to prepare:
Sliders: Offer little hamburgers with a variety of toppings, including cheese, pickles, and sauces. To accommodate everyone's interests, think about providing both vegetarian and beef alternatives.
Nachos: Set up a nacho bar with tortilla chips, cheese, salsa, guacamole, sour cream, and any other desired toppings. It is popular and simple to customize. Provide a variety of dips, such as spinach-artichoke dip, buffalo chicken dip, and seven-layer dip. Serve them with breadsticks, vegetable sticks, or tortilla chips.
Pizza rolls: For a simple and delectable snack, bake some yourself or buy some. They are simple to handle and go well with many different dipping sauces.
Cookies: For dessert, bake football-shaped cookies or cupcakes with team-themed decorations. As an alternative, set up a dessert station with a variety of sweets including cookies, brownies, and a fondue station.
3. Drinking Options
Don't forget to provide your visitors with a variety of drinks to satisfy their thirst throughout the game. Think about these choices:
Non-Alcoholic: Provide bottled water, juices, and a variety of soft drinks. For a unique twist, you may also make virgin cocktails or mocktails. Ample ice and glasses should be available for simple self-service.
Alcoholic: If you and your buddies are of drinking age, you may want to provide a few beer alternatives or make a special Super Bowl cocktail. Provide non-alcoholic options for individuals who don't drink and always remember to drink responsibly.
4. Super Bowl Pool Betting
Set up a fun betting pool to liven up the game. Ask participants to anticipate the results while assigning point values to various game outcomes, such as touchdowns, field goals, or turnovers. Give winners modest rewards or bragging rights. Since there are many different gambling rules, make sure you abide by all of them.
5. Super Bowl games and Trivia
During commercial breaks or halftime, entertain your guests with some Super Bowl trivia or interactive activities. Make a list of inquiries regarding previous Super Bowls, participants, and memorable moments. Prizes should be given for the right responses, or a lively conversation should be started. On a tabletop, you could even set up a paper football game or a casual paper football throw match.
6. A Photo Booth With a Super Bowl Theme
Create a photo booth area with a Super Bowl theme so that your visitors may remember special moments. To create a captivating backdrop, use team banners, football accessories, and placards. Offer visitors a Polaroid or instant camera, or suggest they take selfies with their iPhones. You may print the pictures afterward or make a digital album that everyone may view.
7. Bingo for the Super Bowl
Use internet templates to create Super Bowl-themed bingo cards, or construct your own. Substitute football-related phrases, player names, or memorable Super Bowl ads for conventional bingo numbers. Give your visitors the cards so they may mark out the squares on the cards that correlate to the actions taking place on the screen while they watch the game. Give you little rewards for finishing a line or the complete card.
8. Team Spirit Dress Code
Urge your guests to wear the jerseys or colors of their preferred team. As a result, a lively and energetic environment will be created, heightening the party's enthusiasm. Even a reward for the fan with the best outfit is an option.
9. Super Bowl Commercial Awards
Ask your guests to vote for their preferred ads during the commercial breaks. Make categories for the funniest, most heartwarming, and best celebrity cameo commercials. Together, discuss the advertisements, then count the votes to determine the winners.
10. Halftime Show Performances
Hold a little talent competition among your guests to make the halftime show the party's main attraction. During the break, ask them to perform some music, dance, or sing. It's a fantastic strategy for keeping attendees amused and involved throughout the whole event.
11. Super Bowl crafts
Set up a crafting area where visitors may make their accessories or home décor with a football theme. Supplies like colorful paper, scissors, glue, markers, and glitter should be made available. To support their team, visitors can create banners, pom-poms, headpieces, or even custom foam fingers.
12. Super Bowl Charity Drive
Take advantage of the Super Bowl celebration to volunteer in your community. Set up a collecting area and ask your visitors to contribute non-perishable food items, toiletries, or slightly worn clothing. After the celebration, donate the products that were gathered to a nearby food bank or charitable organization. This gives your event a deeper significance and encourages a sense of social duty.
Conclusion
Your Super Bowl party for students will be recalled as an amazing event that personified the spirit of togetherness, enthusiasm, and fun after the final whistle sounds and the confetti falls. You'll be able to effectively construct an engaging game-day experience that responded to the specific needs and interests of your fellow students by using the wide variety of suggestions included in this guide.
Everyone would feel at home in the thick of the football excitement thanks to your attention to detail, which would include the painstakingly created game-day ambiance and the delicious cuisine that satiated every appetite. The enjoyable gathering will be made even more enjoyable by the entertaining activities, which include betting pools, quiz contests, and picture booths.
Your Super Bowl party can now be more than just a chance to watch the game; it can also be a chance to develop relationships, forge new friendships, and make precious memories. You and your guests can celebrate the Super Bowl's spirit by sharing stories, laughing, and cheering while also honoring the sport and the joy of getting together.
As you take in the success of your Super Bowl party once you're done, take pleasure in the knowledge that you planned an occasion that displayed your ingenuity, hospitality, and capacity to foster a welcoming and energetic environment. All of the people that attend will always remember your efforts. Continue to adopt the spirit of harmony and festivity that this event symbolizes up until the next Super Bowl.