15 Easy Part-Time Jobs for College Students That Pay Well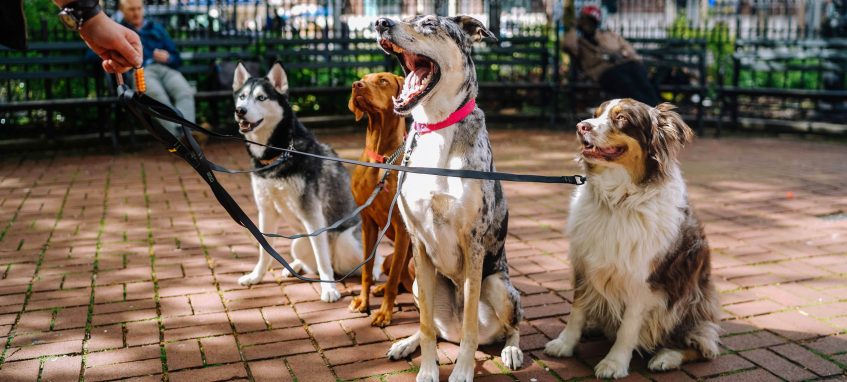 College students are often in need of extra money. Part-time jobs are great in this situation, as having a lot of classes each day can't allow students to work full time. To make your choice of a part-time job a little easier, we have created a list of 15 easy part-time jobs that will perfectly suit a busy student life and bring you extra cash.
1. Barista
Mmm, a coffee scent in the air and tasty drinks for every coffee lover out there! Baristas at Starbucks, Stumptown, Tully's Coffee, etc., have pretty beneficial packages, opportunities for further career growth and competitive salaries. Coffee chains gladly hire students and provide a flexible schedule. You can also choose the working place that will be suitable for you.
2. Dog Walker/Pet Sitter
Students who love animals will definitely enjoy trying themselves as pet sitters. You can give an advert at local bulletin boards or freelance platforms and take as much working hours as you need. Moreover, you can take care of a few dogs at the same time, walking them, bringing to a vet, playing and feeding them. This way, you will increase your hour payment.
3. Merchandiser
A lot of shop items are stocked by merchandisers – brand representatives who restock shelves and set up promotions. College students often work as merchandisers because they can choose the location of work and working hours according to the classes. The only thing you need to consider before searching for this type of job is that you have to lift and move heavy boxes when working as a merchandiser.
4. Call Center Worker
Many companies have call centers, hotlines or customer service teams and regularly hire people for full-time or part-time jobs. Call center employees might do cold sales calls, survey calls or provide service support. Anyway, you don't need to be a professional speaker to work there as you will be given a script to follow. So, you just need to be polite and have a distinct utterance.
5. Brand Ambassador
Have you ever been approached by the representative of some brand (Avon, Monster Energy, Red Bull, etc.) and given free samples or asked to take participation in a survey? That's what a brand ambassador does. Basically, your job would be to collect people opinions about the company or distribute products of the brand.
6. Cashier
Cashiers are one of the most common positions among the working students. It's a more demanding job than others as it implies excellent attentiveness. But this position is easy to find as you can turn to the nearest local supermarket, mall or grocery store. Moreover, this is an example of a part-time job that pays well.
7. Retail Worker
A retail worker is also a common job position. A lot of girls prefer to work in clothes or make-up stores as consultants or assistants as it is a pleasant and easy job for all fashionistas. This job will suit any college student who is polite, friendly, communicative and patient. Retail shops usually provide a convenient schedule of the shifts, proper payment, discounts for their products or even free products for employees to try out (for example, Sephora has monthly free products for each employee). To keep up with the industry, check out our list of fashion blogs.
8. Photographer
If you have a particular talent, for example, you are an eager photography amateur, you can try different freelance jobs which you can find on platforms like Freelancer or Upwork. You can choose which order you want to take or when you want to work. You can also sell your photographs to photo stocks or magazines, websites, designers, etc. You can arrange photoshoots in a studio or provide your services at weddings, graduation ceremonies, birthday parties or conferences.
9. Writer
If you have a writing talent, you can try yourself as a freelance writer. As well as a photographer, you can find clients online and take their orders to work from home. This is a great job as you don't even need to leave your home as you can send finished pieces through email and get paid. A writer can be helpful to online stores, publishing companies, online magazines and small businesses who need freelance writing help.
10. Social Media Assistant
A lot of bloggers and brands require assistance in the social media posting process. If you are an addict to social media scrolling through – this is a job for you. You will be asked to create engaging content, answer to comments, and follow the posting plan. Such a job doesn't require specific skills and is one of those higher paying vacancies that many students want to get because they can work for this part-time job from home.
The competition is intense and finding a part-time job in this area might be challenging, so be sure to check the job posting frequently. You can also write to your favorite brand or influencer (for example, YouTube blogger) and offer your help. Who knows, you might become an assistant of the future millionaire or a specialist in this sphere, which, actually, doesn't require an academic degree.
11. Library Worker
You can also search for a job at your college. There are usually job positions for students inside your learning institution such as a library worker, technical assistant, a cafeteria worker, etc. It's a good chance for those who don't want to leave the campus. You will also love a job in a library if you are an eager reader as you will have free access to the books, scientific works, and other sources. By the way, do you know which books are in the "must-read" list for college students?
12. Data Entry Clerk
Data entry clerk positions don't require any specific skills except attentiveness and fast speed of typing. Data entry clerks usually work with statistics, medical or financial information. However, there are a lot of scams in this sphere. So, be sure to check out testimonials or find a person with experience of working for the company.
13. Babysitter
What is more common than a student working as a babysitter? This job is without any doubts one of the most popular positions among high school and college students. It requires you to be attentive, caring, and patient towards kids. Students who work as babysitters or tutors make good money and also have an opportunity to get a permanent position for a long time.
14. Delivery Driver
Check out companies that sell any products or offer food delivery in your location – they might be hiring. Delivery is usually beneficial as you can be provided with a car or a bicycle to drive and also get tips from satisfied customers. You will also be able to get a discount on the products that this company sells.
15. Waiter
Many students work in restaurants as waiters or hosts. A part-time job in a restaurant has certain benefits:
Decent tips
Flexible schedule
Friendly atmosphere
An opportunity for career growth
And the main advantage is that finding jobs in this sphere is as easy as pie.
In a restaurant, you also can choose the most convenient time and days of the week when you want to work.
Wrapping Up
A lot of successful businessmen started as baristas, waiters or dog walkers. Don't be ashamed of the place you work for and choose the option that would be the best for you. Let us know what other easy part time job ideas for college students you can suggest and read our guide on how to choose a part-time job for more ideas.