Lazy Side Hustles: Easy Ways to Get Extra Cash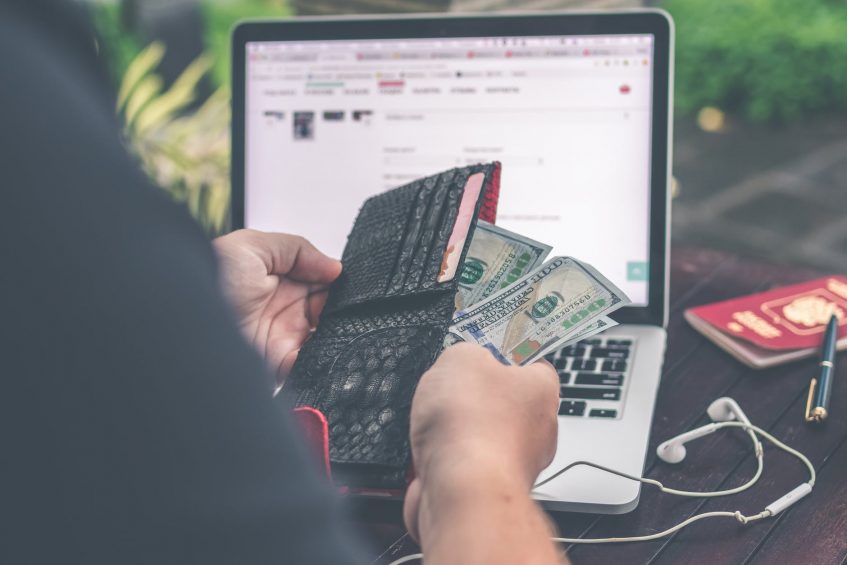 Not every student has financial support from their parents. Even those who do are still in need of some extra cash from time to time. Many full-time students are not aware of possible opportunities to earn some money on the side, because they believe that they don't have enough time to have a job and keep up with their assignments.
However, there are some ways for you to get extra money without much effort and without spending too much time on it. So, read our list of the best side hustles that we have found for you. If you have any experience with side jobs for students that you can share with our readers and us, let us know in the comment section.
1. Selling Photos on Photo Sharing Sites
Nowadays, there are many platforms that accept vector images and photos for selling. These images are usually used for illustrating articles and blog posts or for various collages and designs. If you can draw vector illustrations or can take beautiful and high-quality photos, this side job will make you some good extra money.
The main advantage of this job is that you don't have to spend much time on it. All you need to do is regularly upload your work and get money with every download that a customer makes. Many people enjoy taking photos, so why not turn your hobby into a profitable side hustle?

2. Taking Paid Online Surveys
Some companies and organizations pay people to take their surveys. Some of them might want your opinions or ideas, others are curious about information like your preferences or habits. These surveys are used for marketing purposes, targeted advertisement, and various studies in psychology, sociology, etc.
One online survey won't bring you much money, but it doesn't take much time and is almost no effort, so you can finish an impressive number of them each day in a little bit of spare time.
3. Ticket Reselling
Do you like attending various concerts, exhibitions, or movie premiers? Then you might know that buying tickets long before the actual date (early bird tickets) costs you less. This fact can be used to make some extra money.
Just buy a few early bird tickets to sell before the event and make some profit. You can sell them online or to other college students. Of course, ticket reselling implies taking some risks, for example, if you can't sell all the tickets that you have purchased. However, many students say they make good money by reselling tickets and turn it towards paying off their student loans.

4. Editing and Proofreading
Copywriting is what a lot of students make money on. However, not every student is a good writer, so we will look at some other options. For example, editing, proofreading or translating. If you don't have a writer's talent but don't mind working with written pieces, this side hustle is just for you.
You can edit students' essays and other assignments, or take contracts from freelance platforms, like EssayTigers, Upwork, Freelancer, etc.
5. Creating videos
Video content is increasingly taking over the internet and brand marketing. A lot of young people enjoy creating videos and doing editing, so it's not surprising that this niche becomes profitable for those who put some effort into their work.
You probably know that video platforms like YouTube offer partnership programs that allow contributors to make money out of the views, likes, and product placement. This is one of the ways to make money while having fun with a camera and scripts. You can record vlogs, unboxing videos, product reviews, or useful tips and life hacks.
However, this is not the only way to make money by creating videos. A lot of companies and brands are in need of video content. Just advertise your services and visit freelance platforms to get contracts and create branded videos that pay very well.
6. Website Testing
Website testing is also one of the very common outsourced services. Website owners often pay freelancers for testing various functions of their pages, widgets, and plugins. These tests don't take much time (typically around half an hour) but can bring in some money (the payment depends on the complexity of the test).
If you know anything about site-building and web development, you can easily make some extra cash in a few hours a day.
7. Selling Items on Marketplaces
Marketplaces like eBay are a great option for students to sell various items, crafts, and goods as it makes the selling process easier and faster. If you create handmade works or have some old textbooks, clothes, or other things that you don't need anymore, try to sell them through platforms like eBay or Etsy. Also, check your local student forums or bulletin boards and place photos of your possessions for sale there too. You might also like our list of the best part-time jobs for college students. Check it out too.

You can also resell products that you get from a supplier, sales, or thrift stores. A lot of people find interesting objects while attending garage sales and then reselling them to vintage shops or collectors.
8. Doing Micro-Jobs
Freelance platforms are full of small tasks that anyone can take. They don't pay much, but these tasks are so easy to complete that you can finish a lot of them per day and get some decent money.
Such small online jobs might be:
Liking and sharing posts on social media. Paid promotion sometimes is not enough, so brands and influencers pay freelancers for their likes and other activity on social media platforms. For example, the task might be to follow the page and like five random posts.

Downloading apps. Yes, there are companies that pay you for downloading their apps and plugins. Of course, it doesn't mean that you can uninstall them right after you've completed the task. So, you will have a lot of things and processes going on in your device. By the way, there are some apps that will help you with managing your time, studies, job, and finances. Check the list of such useful apps that we have created for you.


Data entry and processing. For example, typing up or formatting data.

Taking quick tests.

SEO services.

Creating presentations.
Always be sure to check the company that places such as micro jobs as there are too many scammers who don't want to pay when the job is done. Use freelance platforms that make contracts safe for both a freelancer and a client – check if it makes a payment reservation.
Having a laptop with an internet connection is often the only thing that a student needs in order to make some extra cash. If you have any talents or skills, you can always make them turn into some side source of income, which is just great for a student. What side hustles do you have? Let us know!