Stylish Dorm Room Decorations to Make It Feel Like Home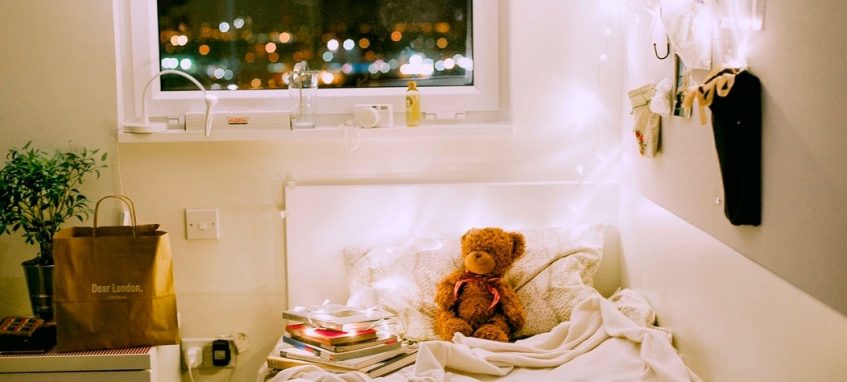 A dorm room is a place that you spend much time in and which might tell a lot about your personality. Making this room feel like home is hard especially if you have a limited budget. But we have a few ideas for you on how you can make your room stylish and cozy. Moreover, some of these ideas are DIY, so you can create a magical interior without spending too much money on it.
Style
Unoccupied dorm rooms look the same with their ordinary sets of furniture and plain walls. But once a student moves in, the room can be given an ultimate makeover to fit the individuality of its inhabitant.
There are a lot of interior design styles that can be applied to the dorm room. The most popular of the dorm room themes are:
Scandinavian

Boho

Minimalism

Shabby chic
If you like the way certain interior looks, pay attention to the colors, forms, and objects associated with a certain style in order to be able to replicate it in the design of your dorm room.
Save the pictures of the design that you like to get inspiration for your room makeover project.
Let's take a look at some ideas of different interior design styles compilation made by Canvaspop:

This infographic shows that plants, lamps and other small details play a significant role as they help to support the general style of the room and create the right mood.
Textile
The textile can totally transform a boring and plain room. It can be changed whenever you crave changes in the interior of your dorm room, reused in DIY projects or taken from home to help you when you feel homesick.
Bedding: Pillows and Coverlets
What textile can you use to decorate your dorm room? Pick some decorative pillows and a fancy rug to make your room cozier. Or, you can make some yourself. For example, you can write inspirational quotes on pillow covers using special fabric paints. Alongside with multiple color choices, there are also metallic colors – golden, copper, and silver, which will add a little chic. Fabric paints are non-toxic and don't fade when washing. Various handmade pillows can become cute college dorm decorations for everyone.
Source: OrganizeYourStuffNow
Watch a video on how you can customize your boring pillowcases to decorate your dorm room without spending too much money. And if you are on a tight budget and want to save money every day, check out our tips on inexpensive meals for college students.
Coverlets and blankets are also great for everyone who needs to make the bed neat or get warm during cold evenings. Choose vibrant and contrast shades to add a pop of color if your room is rather monochrome or use pastel shades to make your interior calm and relaxing.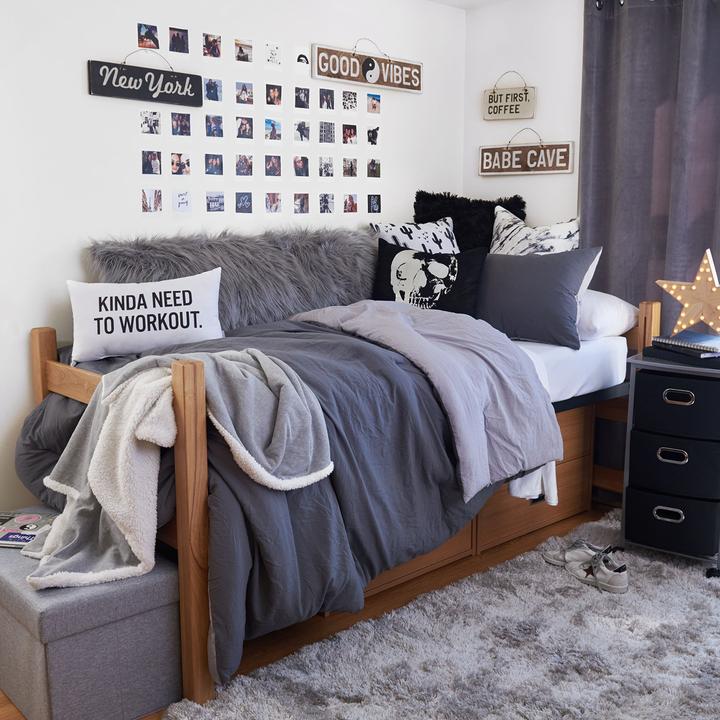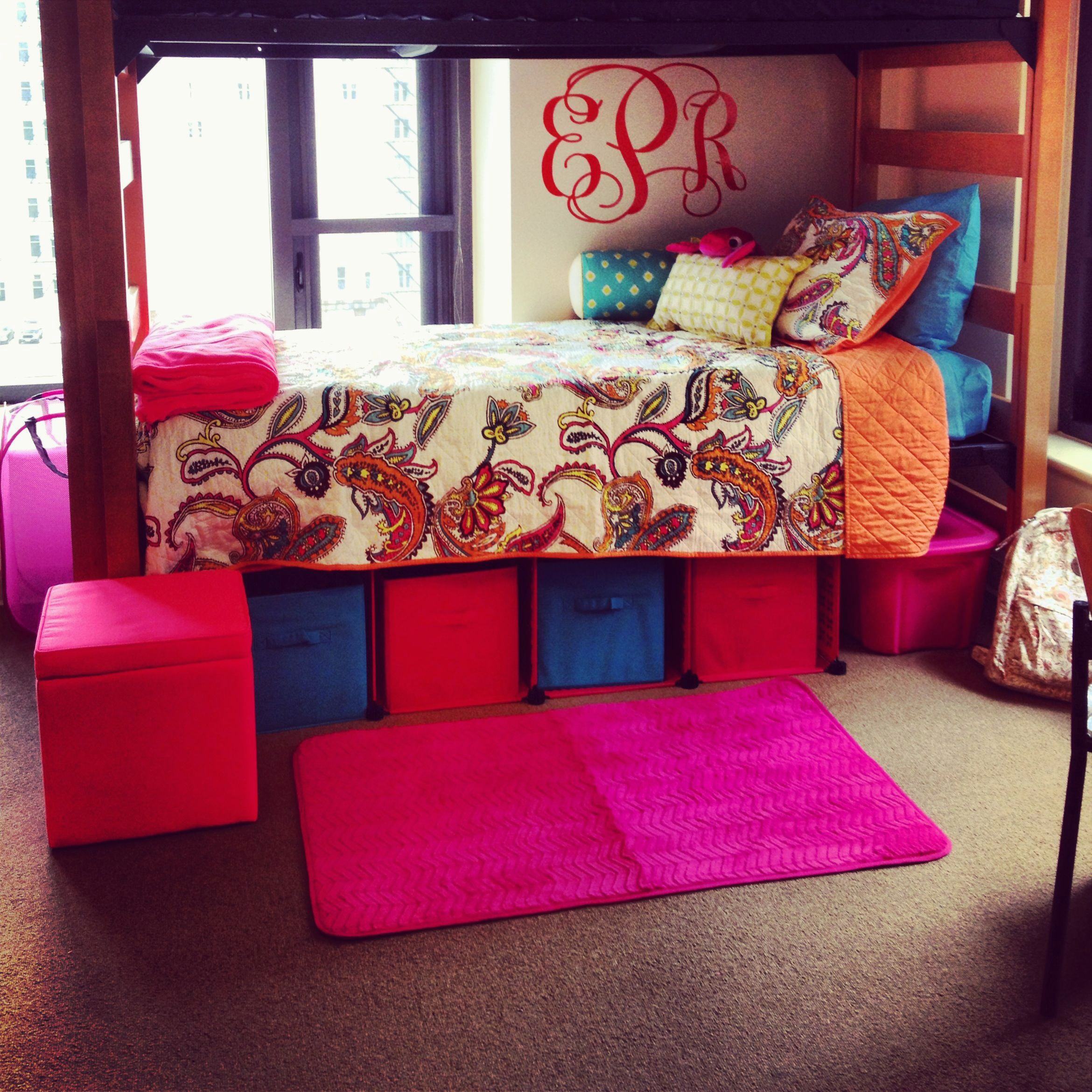 Sources: Dormify and Mill Valley
Rugs
If you need a rug to put next to your bed, you can make it using your old T-shirts. Cut your old clothes in stripes and braid these stripes together. Then you can sew all of the braids together or glue them to the base (for example, the old towel or a piece of cardboard) to get a colorful and cute rug as your dorm room decor.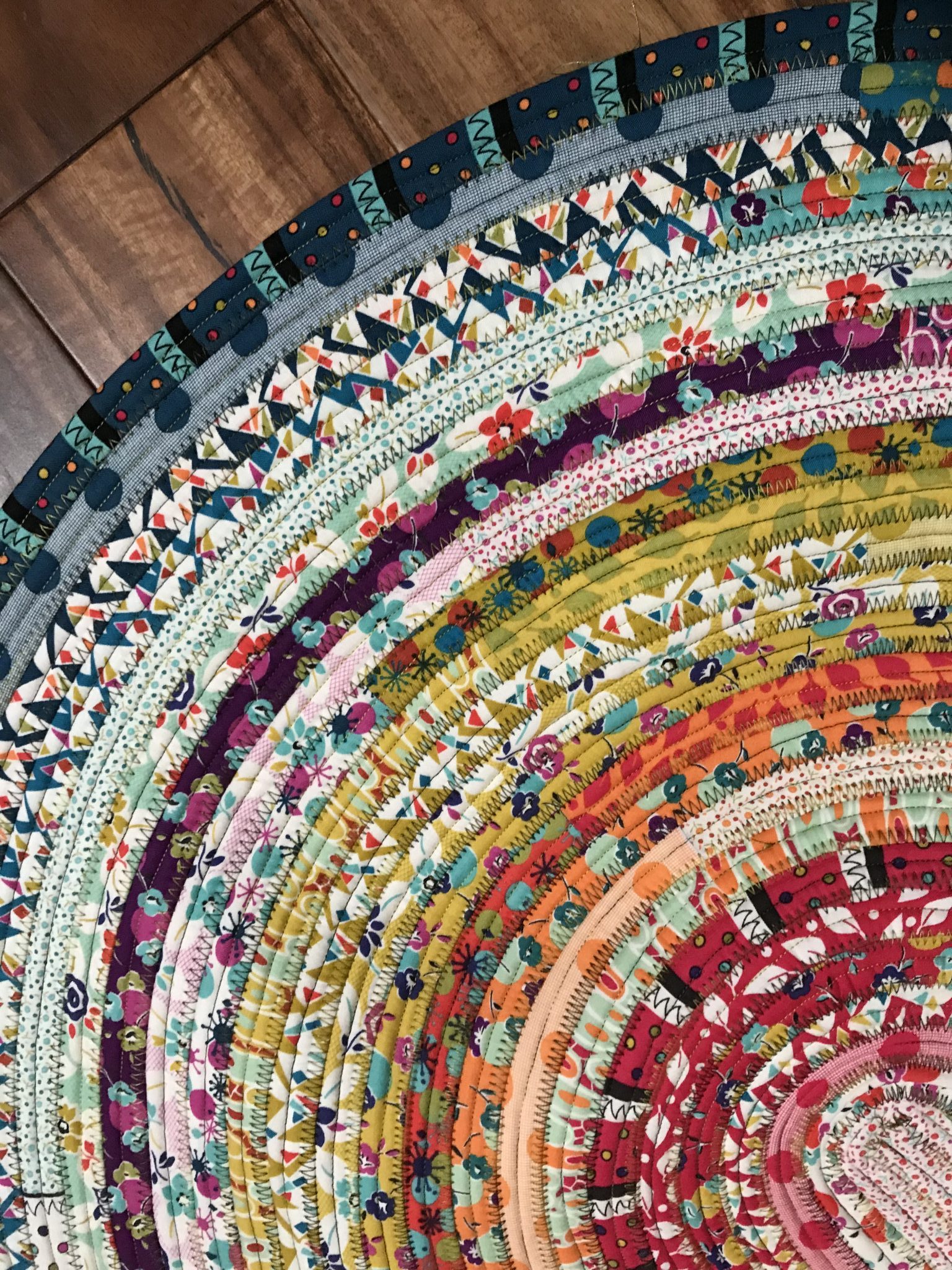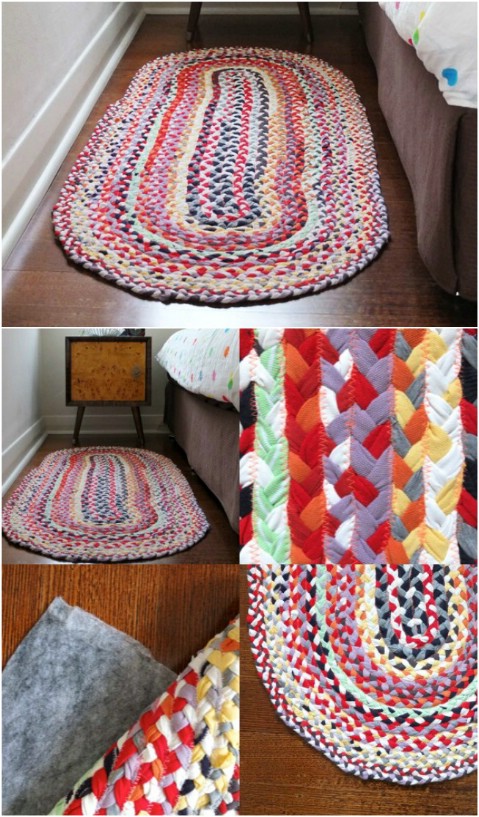 Sources: Createwhimsy and DesignGalleryQatar
Watch a detailed tutorial:
Wall Decor
If you want to change the setting of your dorm room quickly and without much effort, the easiest thing that you can do is to decorate your walls with various pieces of art that you can buy in the store or craft yourself using the ordinary materials.
Prints and Posters
Prints and posters are one of the most popular ways for students to decorate their dorm rooms. Posters are inexpensive and don't require being nailed to the wall, so you don't need to worry about the dorm deposit (only in the case when you want to throw an unforgettable party in your dorm room).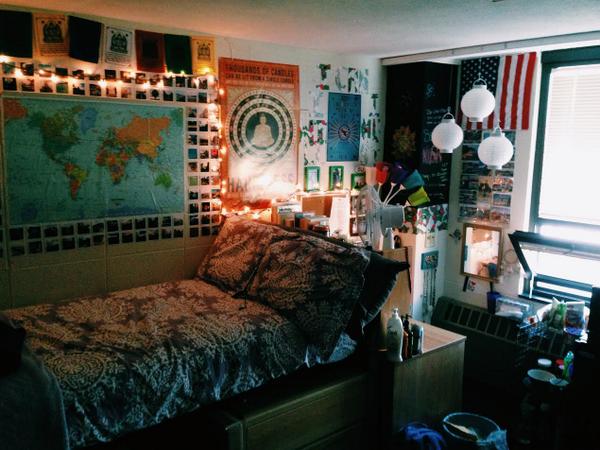 Source: Twitter
Posters with inspirational quotes and favorite bands, movie or book characters can be placed anywhere in the room and changed for another poster if needed. So, make sure to look for the pieces that will brighten up your room and your mood.
Many girls wonder "How do guys decorate their dorms?" Well, with posters and any other pieces of art just like the girls do. Any of the ideas in this article can be used in any dorm room as we picked suitable dorm room ideas for guys too.
Decorative Lights
The first thing that comes to mind when speaking about coziness is warm lighting. Making your place special and cozy can be easy if you have a few string lights to put around your bed or above your desk.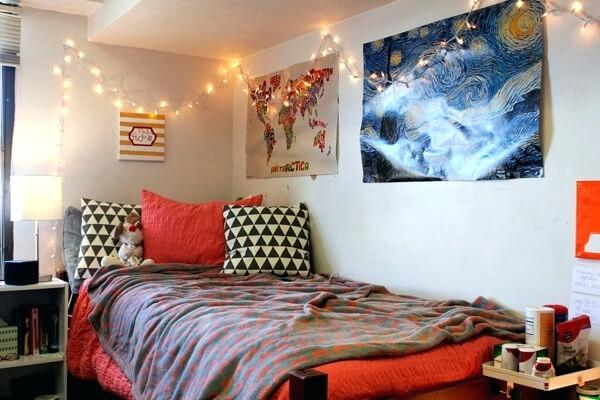 Source: VirtualBuilding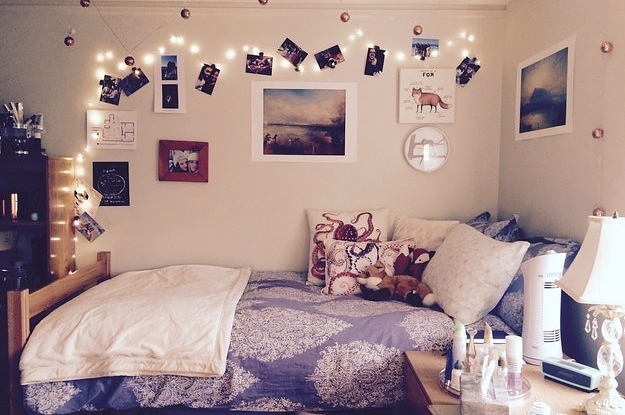 Source: BuzzFeed
Wall Art
Various pieces of art and dorm room wall decor can be found in stores, at garage sales, or you can craft them using the ordinary materials, for example, cardboard, threads, paper, corks, beads, etc.
If you need some inspiration for your craft projects, look up some dorm room DIY decorating ideas on Pinterest or YouTube. For example, you can create a cork board to pin your schedule, pictures, etc. or a collage using pages from your favorite comic books. By the way, making such wall collages is a relaxing hobby. If you wonder what other interesting activities might become your hobbies, check out our list of weird students hobbies.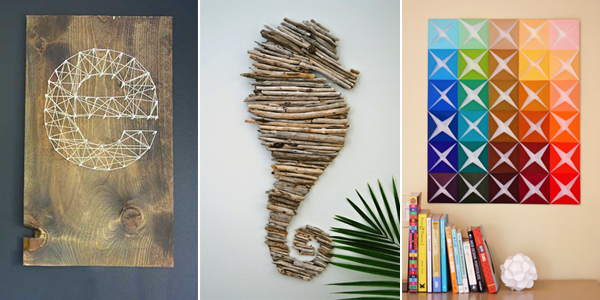 Source: Pinterest
And don't forget about your favorite photos of your friends and family. They can be placed on the wall as a collage or hung using clothespins and cord.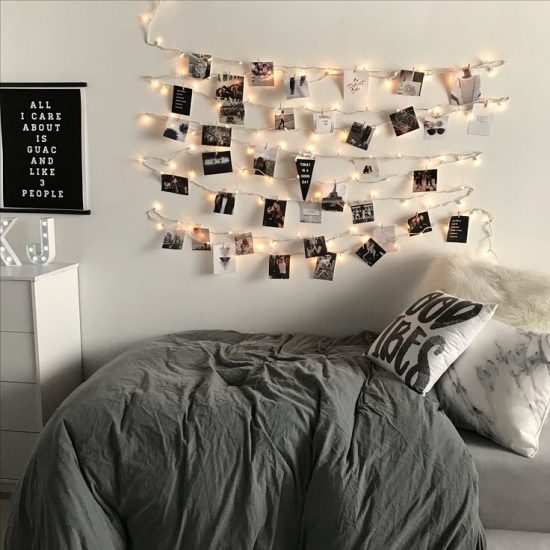 Source: Pinterest
If you don't have any experience in crafting, don't worry – you can always find a suitable piece in a store. Many students sell some of their belongings after graduation, so you can look for such announcements on bulletin boards or on social media.
These were awesome dorm room ideas for every college student. We hope that they will help you decorate your dorm room and make it the way you want it to be. Be creative!