How to Throw an Unforgettable College Dorm Party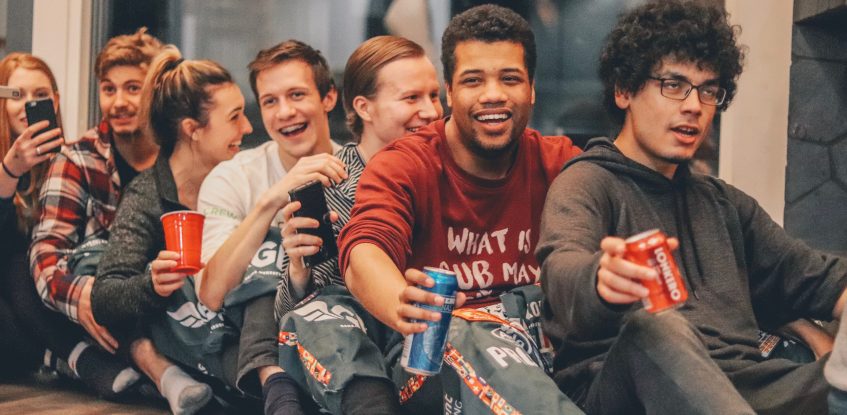 One of the biggest rites of passage for college students is to throw a completely unforgettable college dorm party. What better way to celebrate an occasion or simply kick off some steam from the stresses of college than to let loose with your friends – and everyone else they brought along. If you're strapped for ideas we've got you covered with the main essentials to throwing a party that no one will forget.
Logistics
Time
The first thing you should be is pick a date and time that won't interfere with anything else big on campus. For example, if there's a huge bar crawl happening, don't try to throw a party on the same night. Throwing a party as a go-to spot after a sporting event might be a good springboard for your party, but do your best not to conflict with other parties and events on campus.
Promotion
Next, start promoting! There's no party without people. Grab your phone and make the call known on social media. Twitter, Instagram and Snapchat (if you haven't deleted your app) are the best ways to reach classmates (because who uses Facebook anymore). Feel free to start a hashtag with your room number or address and post the deets to your story. If you're not feeling an invite-yourself situation post and invite those interested to DM you so you can have more control over who shows up to your epic party.
Guests
Make sure you don't just invite girls or guys, there needs to be a good mix of both so invite as many girls as you can because they always bring friends and do the same with guys. Gather up as many as possible.
Speaking of who shows up, you're going to get some randos and tag-a-longs. That comes with the territory of being an awesome party host. People will hear through the grapevine, someone will bring their besties from the next college over and that guy you vaguely remember from French 101 will show up and eat all the snacks. Be prepared for everything to balloon – in a good way.
That's why it's a good idea to keep an eye on your maximum capacity. If you don't want to get shut down before the fun begins keep an eye on how many people you can fit comfortable in your space and have a friend help you keeps tabs on how many partygoers walk through the door.
Atmosphere
Compile the World's Greatest Playlist. That means all the hits, some cool new joints that only the music geeks know about and a few crowd favorites that will take you back to middle school dances. Choose a mix of songs that will get the crowd hype and some that give everyone a chance to relax and just bop to the beat. Also make sure that you save the best songs for the height of the party, you don't wanna waste your best tunes on the beginning when people are just trickling in.
Load Up on Snacks. After you've crafted the perfect playlist, it's time to load up on snacks. Guests love to fulfill their hunger for the munchies with some light fair. You can never go wrong with chips and dip, popcorn, some microwave boneless wings, guac or even candy. Feeling creative? You can make small finger food like meatballs or spinach dip. For the more mature crowd with a sweet tooth try taking a bag of gummy bears and soaking them overnight in vodka or peach schnapps. Buzz and sweets? Sounds like a match made in heaven!
Drinks
And since we're on the topic, it wouldn't be a college party if someone didn't bring the alcohol. You can make a punch with the alcohol of your choice and punch or simply have beers and shots for the crowd. Make sure you keep some in reserve so you can monitor how much is consumed and keep any underage guests from becoming inebriated. Grab plenty of plastic cups and shot glasses so you're guests aren't left having to drink out of the bottle and swapping germs. There's no fun in that. And make sure you plan to have enough so everyone can achieve their desired buzz. Parties are no fun when someone gets blackout drunk and becomes ill or hurts themselves or others – but the best parties are the ones where everyone lets loose and has some fun.
On the flip side, try to stay away from the drug scene–too many stoned or high people can go bad quickly and kill the vibe of the party.
Hosting Duties
Let's be honest, you'll have a few wallflowers at your party initially, so make an effort to talk to everyone who shows up–after all they didn't have to! Show your appreciation, even if you don't know them or don't think highly of them and introduce them to other people who can make them feel comfortable.
Tell jokes, take song requests, make fun announcements, challenge guests to games, you name it! It's your time to have some fun and push everyone to have fun with you. And once everyone's let loose a bit everything will seem ten times as fun.
Don't be afraid to play a few games: Drinking games, giant Jenga, cards and more are fan favorites that will get your guests interacting and having fun. You may want to move the furniture around so no one knocks into your lamp and to leave room for people to mingle and dance if they choose.
Designate a friend as a lookout/bouncer to keep the party from getting crashed or shut down early. If things get out of hand, this person can get things back in order so everyone still has fun. This person can also make sure the location doesn't exceed it capacity or break any music rules.
Have mixologist, you know that one friend or party guest who knows exactly how to mix drinks.
Finally, enjoy yourself! Once the party's going keep yourself present and emet new people, don't put a lot of pressure on yourself and see where the night takes you. It won't be long before everyone's blowing up your inbox asking about the next party.