Scariest Halloween Happenings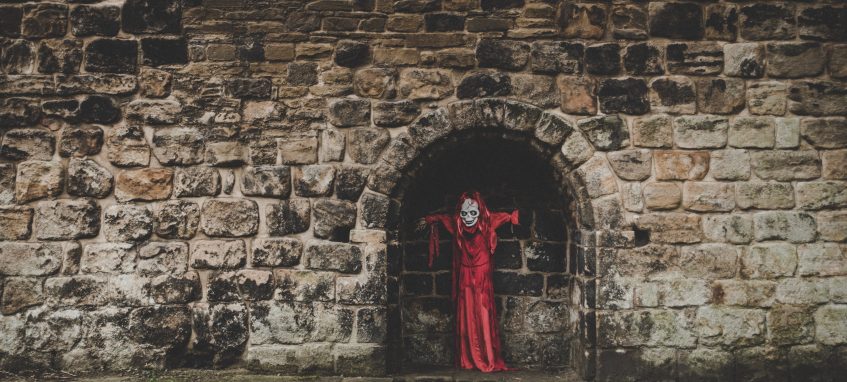 There's nothing like a good haunted house to get you in the spirit of Halloween. Remember going to your hometown's haunted house as a child? Creeping down spooky hallways, feeling the hairs on the back of your neck stand up when you sense the presence of someone else nearby, screaming as they jump out at you and then laughing with relief when you make it to the end in one piece?
Well, imagine this experience, only with large scale pyrotechnics, hundreds of actors dressed in creepy costumes, goosebumps inducing soundtracks, rides, shows and more.
For those who love a good scare and want to experience the best, check out the following events:
Tustin, California. The 17th Door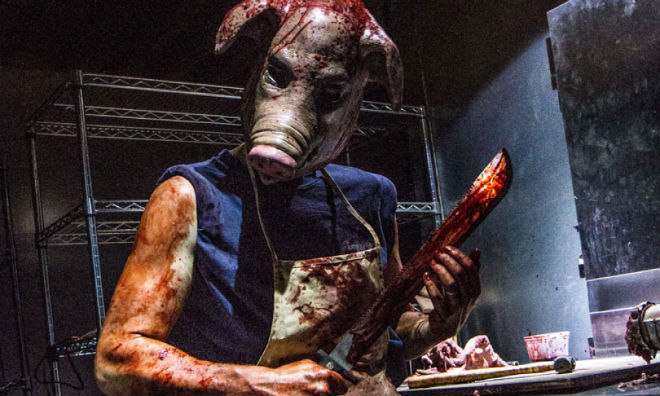 It's a sure bet for those who want a really good scare. In fact, you might even get too scared, which is why the hosts give you a password that allows you to leave if you find yourself losing it somewhere among the pig-faced demons and other monsters that haunt the 17-room scare-a-thon. Uttering "Mercy" will get you a quick passage to safety. Expect to be touched and to possibly get wet.
Los Angeles: Universal Studios Halloween Horror Nights Hollywood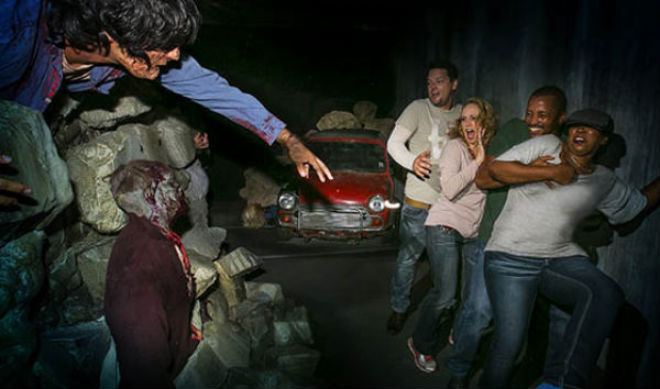 It boasts creepy mazes where you'll encounter characters from AMC's The Walking Dead series, a Terror Tram called The Purge where you'll be hunted by murderers in masks, a series of scary rides featuring scenes from The Transformers, The Revenge of the Mummy, Jurassic Park, and a Simpsons ride to lighten the mood if it gets too intense. Finally there are four unique "Scare Zones" featuring chemically deformed monsters, a creepy Christmas theme, zombie soldiers and a lawless riot with murderers on the loose. The sets, actors and scenes are all top notch Universal Studios productions. Possibly the highest quality fright party on earth.
Dark Harbor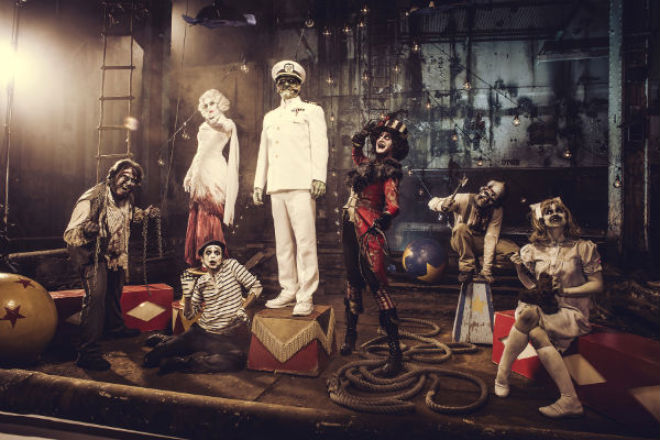 The Queen Mary crew hosts a terrifying event. Once aboard, you'll find mazes, monsters, creepy music by composer Jaymie Valentine. Trapped on the boat with nowhere to go, you'll have no choice but to let the terror overtake you. You can even book a room to take advantage of the creepy shows and nightmare inducing scare-a-thon.
Orlando: Universal Studios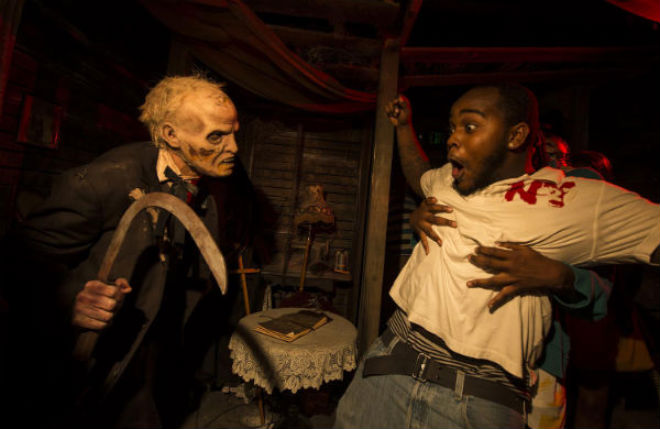 It offers a totally unique Halloween event in Orlando. Featuring 9 haunted houses with themes like: Walking Dead, Freddy vs. Jason, Insidious, The Purge, An American Werewolf in London, 25 Years of Monsters & Mayhem, Run: Blood, Sweat and Fears, 3D Asylum in Wonderland and Body Collectors. Seven scare zones and shows including Bill & Ted's Excellent Halloween Adventure, All Nite Die-In and Evil's Roots. As always with Universal Studios, expect some of the most spectacular sets and special effects you could imagine.
Las Vegas: Fright Dome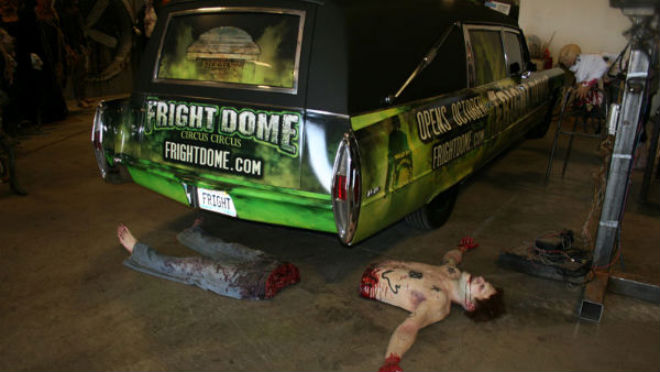 Fright Dome at Circus Circus hotel is one Vegas' biggest Halloween attractions. No costs have been spared to transform the hotel into an enormous haunted house. Make your way through giant spider webs, with man-eating spiders ready to pounce, be pursued by ghosts, goblins, Freddys and Jasons. Scary music, creepy lighting, mazes and live shows. You'll need nerves of steel to make it through this experience without screaming.
Philadelphia: Terror Behind the Walls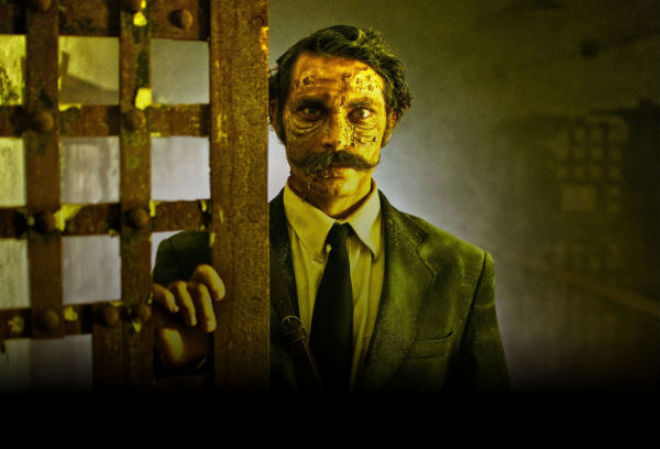 The former Eastern State Penitentiary transforms the enormous complex into the annual Terror Behind the Walls. Touted as one of the best haunted house experiences in the U.S., this event boasts 200 actors in full costume, animation and some of the most skin-crawling soundtracks,
This year, two more attractions have been added to the traditional four. Returning are the popular Infirmary, Detritus, Lock Down, Machine Shop and debuting are Break Out and Quarantine 4D. Enter if you dare!
Chicago: The 13th Floor
The 13th Floor is a haunted house event that helps you understand why most buildings don't have a 13th floor. This nightmare-inducing experience is famous nationwide. With a ride that makes your stomach drop 13 floors, some of the best creepy actors and scary music, you'll get your fright fix at this terrifying event. Buying a ticket allows you entrance to "Feral Moon" and "Dead End District: Wrong Turn" where you enter the truly twisted world of the events creators. Don't expect to sleep at night after visiting the 13th Floor.
Whichever event you attend, make sure you steady your nerves and bring a friend to grab on to when the terror overtakes you. And if you prefer to scare somebody instead of being scared, you should try these Halloween pranks on your friends. Have fun and Happy Halloween!