Love Art: 12 Best Art Blogs to Follow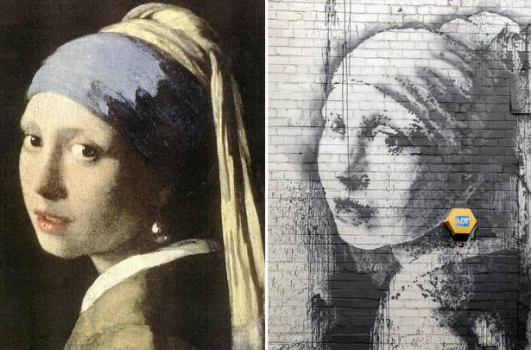 Nowadays there are so many art blogs, it's hard to find the most interesting ones to follow. This is why, we have gathered our favorite blogs about paintings, photography and street art. Check them out, have fun and explore!
Paintings and Fine Arts
Paintings do not live in museums only. There are a lot of blogs that can show you real masterpieces of present and past and tell their stories. Here are some blogs about fine arts you have to check out:
1) Painters' Table
painters-table.com
Painters' Table is an online magazine for art lovers, curators, artists and people interested in painting. It is a great platform for exploring different blogs, which mostly focus on painting. It offers a huge variety of reviews and interviews with the most talented modern artists.
2) New American Paintings
newamericanpaintings.com/blog
New American Paintings is a great resource for discovering American artists. This periodical showed more than three thousand painters from different parts of the United States. If you like modern art, you should definitely check their blog!
3) Two Coats of Paint
twocoatsofpaint.com
Two Coats of Paint, based in NYC, was created by artist Sharon L. Butler in 2007. It is a place where art enthusiasts can share news, reviews and their comments about painting.
4) Carol Marine's Painting a Day (or almost)
carolmarine.blogspot.com
Carol Marine loves to paint. So she decided to share her experience with other people. She's been creating one small painting almost every day. She's been posting her works on her blog since 2006. Carol is very inspiring, especially for people, who always procrastinate!
Photos
Are not that much into fine arts? All right then. We have something interesting for you to offer. Check out these best blogs for photography lovers:
1) Thomas Hawk's Digital Collection
thomashawk.com
Thomas Hawk is a talented photographer from San Fransisco. He has more than 100,000 pictures on Flickr. His goal is to share one million 'hand crafted and lovingly created" pictures with people. His photographs mostly focus on America.
2) Samantha Murphy| Real Picture Blog
realpictureblog.tumblr.com
Samantha is a traveler from Chicago. She posts a lot of pictures from her amazing journeys in her Real Picture Blog. Samantha wants to share her experience with the rest of the world. Her pictures inspire people to start travelling!
3) My Life is a Trip
mylifesatrip.com
My Life is a Trip is a multimedia travel diary by Jen Pollack Bianco from West Coast. She is a photographer and a writer, who started traveling and posting great pictures from her adventures.
4) Adventure Freelancer
adventurefreelancer.com
Adventure Freelancer blog belongs to Jeff Bartlett— an adventurous photographer/writer, who started a blog to get people inspired to explore things around them. He likes to share pictures and stories about the outdoors.
Street Art
A lot of people notice some awesome graffiti on the street. Do you want to check the best street art around the world?
1)Vandalog
blog.vandalog.com
Vandalog began in 2008. This blog is created for people, who want to keep up on what's going on with street art. And you can find a lot of great stories and coverage of graffiti and experimental visual arts.
2) Streetsy
streetsy.com
Streetsy is a blog for people interested in the world's coolest street art. Artists share their works and fans posts pictures of street art they liked. They also have an account on Flickr with more than 400,000 awesome graffiti pictures.
3) Street Art Utopia
streetartutopia.com
Street Art Utopia is a blog with a lot of street art photos and videos. People share street art works, they particularly liked, from all over the world. You can explore new trends in urban art and how it affects the world around us.
4) Brooklyn Street Art
brooklynstreetart.com/theblog
Brooklyn Street Art captures a creative spirit from the streets, studios and galleries around the world. The audience can check out new techniques in urban street art and graffiti.
Do you have your person favorites? Maybe you follow some awesome blogs too? Let us know in the comments!